Wool waste from the manufacturing of textiles is a renewable source of the biopolymer, keratin. The cysteine building blocks of keratin give rise to hydrogen bonding and covalent disulfide bonds; thus, harsh conditions or toxic reagents are required for its processing in conventional solvents. Alternative media, such as ionic liquids (ILs) and deep eutectic solvents, have been investigated for the processing of cellulose and lignin. Polypeptide-based keratin from Merino wool, on the other hand, may be used to produce protein fiber, but is less widely studied. In this paper, ILs and deep eutectic solvents were evaluated for their ability to dissolve wool keratin, and the regenerated material was characterized.
The researchers discovered that the wool did not appreciably dissolve in any of the deep eutectic solvents tested. In contrast, ILs were effective solvents and the solubility of wool was enhanced by adding 2-mercaptoethanol as a reducing agent. Characterization data revealed that the structure of the regenerated wool was altered from the raw material by a loss of crystallinity. Breakdown of the protein into smaller, water-soluble fragments also occurred, but this material could not be separated from the ILs.
Dissolution and regeneration of wool keratin in ionic liquids
Azila Idris, R. Vijayaraghavan, Usman Ali Rana, A.F. Patti, and D. R. MacFarlane
Green Chem. 2014, 16, 2857.
DOI: 10.1039/C4GC00213J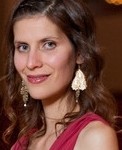 Jenna Flogeras obtained her B.Sc. and M.Sc. in Chemistry from the University of New Brunswick (Fredericton), Canada. Currently a Ph.D. student at Memorial University of Newfoundland, she is excited to spend some time outside the laboratory this summer to explore Thailand and Southeast Asia.