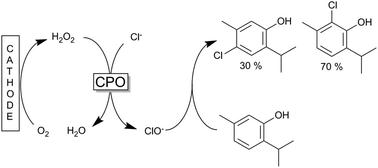 A collaboration between scientists at Frankfurt's DECHEMA Research Institute and the Delft University of Technology has established a biocatalytic route to make bio-based antiseptics from carvacrol and thymol. Halogenation of monoterpenes yields interesting antimicrobial compounds, some with anti-tumour activity and other desirable medicinal properties. As more is discovered about enzymatic halogenation (and significant progress on this front is only recent) it becomes increasingly viable as a benign technology for the synthesis of these important molecules.
A chloroperoxidase enzyme was used to form hypochloride from sodium chloride and hydrogen peroxide, with later experiments exploring combined electrochemical enzymatic halogenation, producing the hydrogen peroxide in situ from oxygen. The hypochloride then reacts with carvacrol or thymol to produce their respective monochloro-derivatives. For example, an ortho-chlorothymol to para-chlorothymol molar ratio of 70:30 was achieved, with yields exceeding 80% under optimised conditions.
The greenness of this methodology is apparent upon comparison to the typical reaction conditions, as highlighted by Getrey et al. and found here. In contrast to the application of copper(II) chloride as a catalyst in the chlorination of phenol derivatives with oxygen and lithium chloride, this new enzymatic process operates at a lower temperature with less catalyst, and does not require an organic solvent.
By James Sherwood
Click below to read the full article. Free to access until 8th January.
Enzymatic halogenation of the phenolic monoterpenes thymol and carvacrol with chloroperoxidase, Laura Getrey, Thomas Krieg, Frank Hollmann, Jens Schrader and Dirk Holtmann, Green Chemistry, 2014, DOI: 10.1039/C3GC42269K