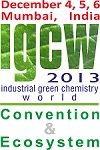 The 3rd Industrial Green Chemistry World-Convention & Ecosystem (IGCW-2013), Asia's largest Industrial gathering on green chemistry and engineering will be held on 6th, 7th and 8th December, 2013. It will bring together knowledge seekers and knowledge providers in the field of Green Chemistry and Engineering (GC&E) to advance the existing technologies and also to catalyze commercialization of environmentally benign as well as economical alternatives. It will mostly focus on the fields of Pharmaceuticals, Agro-chemicals, Dyes & Pigments, Specialty and Fine and Performance Chemicals.
1000+ global visitors that include senior decision makers from preeminent companies, 300 participators from leading Indian and International organizations, government bodies, academic institutions and 50 exhibitors will gather on the exhibition floor to seek emerging GC&E technologies, solutions and services.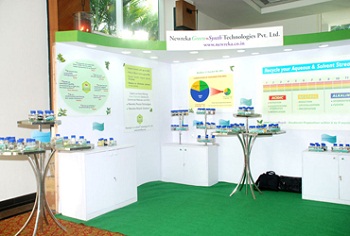 Here you can network with the top Industry and Academia experts visiting IGCW-2013 as speakers and Presenters. It gives you an opportunity to utilize non-linear promotional benefits through IGCW Social media, website and IGCW Partners, connecting more than 50,000 Chemical Industry stakeholders world-wide. It gathers over 500 senior representatives from Management, R&D, Technologies, Operation & Production.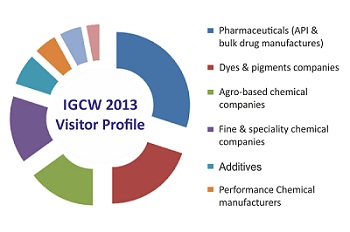 Exhibitor categories include:
– Green Processes & technology solution providers
– Green Solvents
– Green Catalysts
– Green Engineering
– Green chemicals, additives, etc
– Green Measurements & relevant service providers
IGCW-2013 Expo is one of the many aspects of the IGCW Convention. The 3rd IGCW-EXPO will bring together around 50 solutions and technology providers from all over the globe to partner with you in resolving your- immediate, short-term, mid-term or long term industrial green chemistry and engineering based requirements.
IGCW-2013 Date & Venue
6th, 7th & 8th December 2013
Renaissance Mumbai Convention Centre Hotel
Lakeside Chalet, Near Chinmayanand Ashram, Powai, Mumbai
For further information contact Ms. Krishna Padia at krishna.dave@newreka.co.in