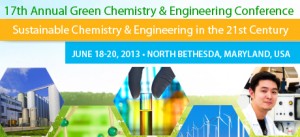 The ACS Green Chemistry Institute®'s Green Chemistry & Engineering Conference (GC&E) will be held on the 18–20 June 2013 in North Bethesda, Maryland, just outside of Washington DC. This event is an opportunity for scientists, businesses, students and educators, and advocates to broaden their understanding of green chemistry and engineering while building valuable connections with leaders in this growing field.
GC&E features three days of programming including world-renowned speakers, three poster sessions and more than 30 technical sessions on subjects such as designing safer chemicals and products, green chemistry education, and new business through green chemistry innovations.
Conference Highlights
• Daily Keynotes Speakers:  There will be a daily keynote presentation from Dr. Milton Hearn, Associate-Director, Green Chemical Futures-Industry; Dr. Michael J. Pcolinski, Vice President of Innovation & Technology, BASF Corporation; and Dr. Jim Hutchison, Professor of Chemistry, University of Oregon.
• GC&E Student Workshop: This pre-conference workshop will be Monday, 17 June 2013 and is free to students registered for the conference. Lead by ACS Green Chemistry Institute® Director, Dr. David Constable, and other experts, this workshop will be a fast pasted, interactive series of sessions covering each of the 12 Principles of Green Chemistry.
• ACS Careers Workshop: On Wednesday, 19 June 2013, expert consultants from ACS Careers will conduct a 4-hour workshop to help attendees accelerate professional development. Learn more about planning and résumé preparation, maintaining an effective job search, reviewing employment trends, and enhancing professional skills.
• Online Session: A special session "Global Supplies for Chemical Feedstocks in the 21st Century" will be held on Tuesday, 18 June 2013 at 7:00 p.m. EDT (–4 GMT) and streamed live online for free to viewers around the world.
• The Green Expo: The expo features vendors from business, government, and academia. Explore some of the 21st Century's latest technology, resources, and marketplace opportunities.
For more information and to register, please visit the website www.gcande.org.