The first issue of Green Chemistry for 2013 is now available to read online.  Click here to read the Editorial by the Chair of the Editorial Board, Professor Walter Leitner, and Editor, Sarah Ruthven.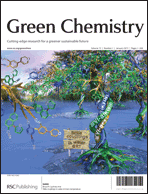 The front cover of this month's issue highlights the work of Bruce Lipshutz and colleagues from the University of California, Santa Barbara, USA.  The team reported the use of a nonionic amphiphile which efficiently enabled Stille couplings in water.  TPGS-750-M is a commercially available 'designer' surfactant which self-assembles to form nano-micelles in water.  Within each of these micelles, several coupling reactions can take place.  This procedure, which in most cases could be performed at room temperature, could be applied to a wide variety of substrates and leads to minimal waste generation.
Stille couplings in water at room temperature, Guo-ping Lu, Chun Cai and Bruce H. Lipshutz, Green Chem., 2013, 15, 105-109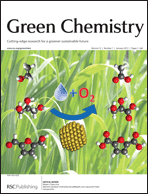 The inside front cover features the work by Robert Davis and colleagues from the University of Virginia, USA.  In this Critical Review, the team evaluate the literature surrounding the use of supported metal nanoparticle catalysts for the selective oxidation of alcohols and aldehydes.  They compare the performances of the catalysts studied in this review by categorising reaction rates based on the turnover frequency as a common, consistent denominator.   The authors also look at factors that can affect the evaluation of reaction kinetics, such as catalyst deactivation, and give suggestions regarding how to obtain the best data.
Selective oxidation of alcohols and aldehydes over supported metal nanoparticles, Sara E. Davis, Matthew S. Ide and Robert J. Davis, Green Chem., 2012, 15, 17-45.
Read both of these article for free!
Stay up-to-date with the latest news and content in Green Chemistry by registering for our free table of contents alerts.