UK scientists have developed a continuous photo-oxidation procedure of an allylic alcohol in supercritical carbon dioxide.
Malaria is one of the most infectious diseases in the world.  Some strains of malaria are becoming resistant to the traditionally used quinine based antimalarials, and so there is a need to develop new antimalarial drugs.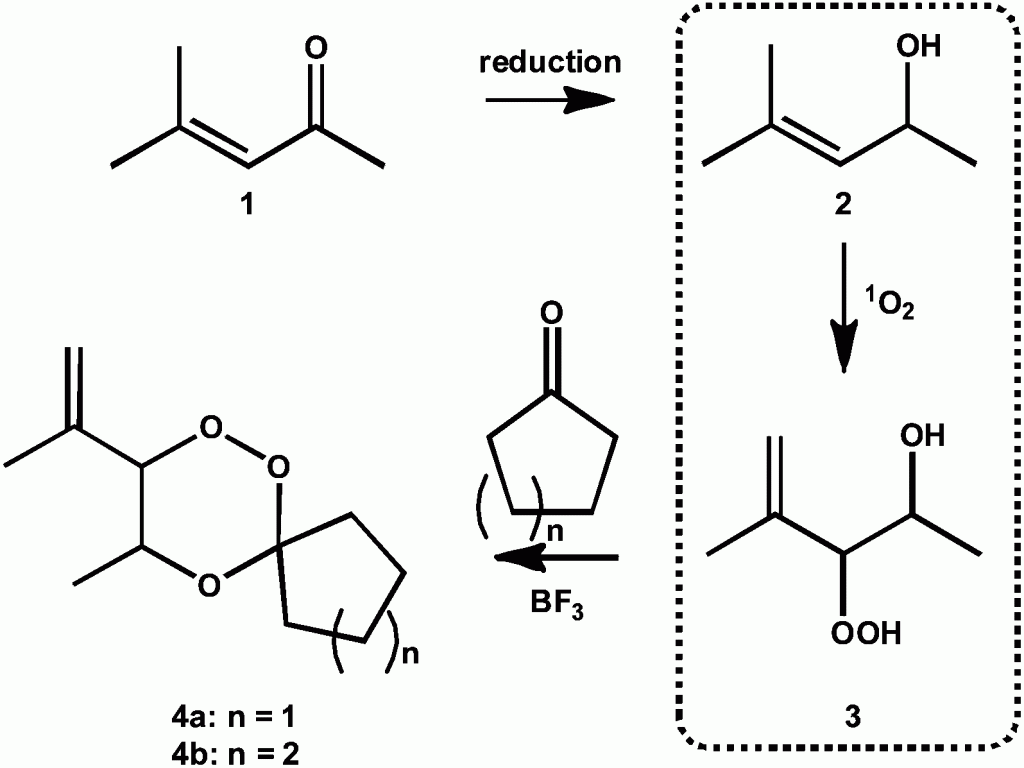 A common feature of some newly developed antimalarial compounds is the trioxane moiety, and a convenient way to introduce this group is via photochemically generated singlet oxygen species (1O2).  However the highlight reactive nature of this species can introduce problems when trying to scale-up the synthesis of these groups for industrial production, particularly in terms of identifying acceptable solvents (non-flammable and in-efficient 1O2 quenchers).
In this work, Martyn Poliakoff, Michael George and colleagues from the University of Nottingham, UK, have developed a continuous process for the sustainable synthesis of trioxones with  1O2in supercritical CO2.  The team also examined the remaining two steps in the synthesis of antimalarial trioxanes from readily available starting materials, and hope that this approach could lead to the exploration of libraries of different trioxanes as potential antimalarial agents.
Read the full article for free until the 9th January 2013!
Synthesis of antimalarial trioxanes via continuous photo-oxidation with 1O2 in supercritical CO2, Jessica F. B. Hall, Richard A. Bourne, Xue Han, James H. Earley, Martyn Poliakoff and Michael W. George, Green Chem., 2013, DOI: 10.1039/C2GC36711D
You may also be interested in this article which is also free to access for a limited time:
Could the energy cost of using supercritical fluids be mitigated by using CO2 from carbon capture and storage (CCS)? James G. Stevens, Pilar Gómez, Richard A. Bourne, Trevor C. Drage, Michael W. George and Martyn Poliakoff, Green Chem., 2011, 13, 2727-2733
Stay up-to-date with the latest news and content in Green Chemistry by registering for our free table of contents alerts.