UK Scientists report the feasibility of solvent recovery via solvent nanofiltration as an alternative to distillation.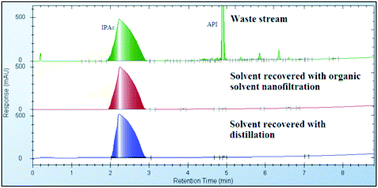 Distillation has been the common technique employed for separating solvent from crystallisation mother liquors for many years.  However, although high purity solvent is generated from this process, it can be very energy-intensive and so a low energy alternative is highly sort after.  Here, Christopher Pink and colleagues from GlaxoSmithKline R&D Ltd and Imperial College London, UK, report the use of organic solvent nanofiltration (OSN) as an alternative to distillation for solvent recovery.  The team report that OSN is capable of recovering the organic solvent with a purity suitable for re-use in subsequent crystallisation processes, and energy-efficiency calculations show that OSN uses 25 times less energy per L of recovered solvent compared to distillation. 
However, the efficiency of this membrane-based solvent recovery is restricted by the solubility of the compounds within the waste stream, and can result in the recovery of less solvent for OSN.  But equivalent recovery volumes can be obtained with a combined distillation/OSN approach, still resulting in 9 times less energy consumption than when using distillation alone. 
This article is free to access until the 31st July 2012!  Click on the link below to find out more…
Organic solvent nanofiltration: a potential alternative to distillation for solvent recovery from crystallisation mother liquors, Elin M. Rundquist, Christopher J. Pink and Andrew G. Livingston, Green Chem., 2012, DOI: 10.1039/C2GC35216H
You may also be interested in these articles – free to access for 2 weeks:
Environmentally friendly route for the preparation of solvent resistant polyimide nanofiltration membranes, Iwona Soroko, Yogesh Bhole and Andrew Guy Livingston, Green Chem., 2011, 13, 162-168
Product recovery from ionic liquids by solvent-resistant nanofiltration: application to ozonation of acetals and methyl oleate, Charlie Van Doorslaer, Daan Glas, Annelies Peeters, Angels Cano Odena, Ivo Vankelecom, Koen Binnemans, Pascal Mertens and Dirk De Vos, Green Chem., 2010, 12, 1726-1733
Keep up-to-date with the latest content in Green Chemistry by registering for our free table of contents alerts!