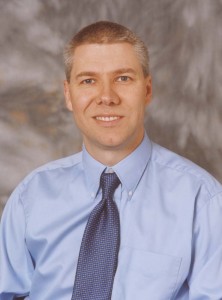 Andrew Abbott is a Professor of Physical Chemistry and Head of the Department of Chemistry at the University of Leicester, UK.  His research is based on the design, fundamental studies and applications of ionic liquids and deep eutectic solvents.  Andy took a few moments to chat to Green Chemistry…
Who or what initially inspired you to become a chemist?
As with most chemists, I can trace my career in Chemistry to my chemistry teacher at school, Mr David Peacock at Abbotsfield School, West London. He used to take us to all kinds of demonstration lectures and he was a great inspiration.
What has been the motivation behind your recent research?
My own research is in the area of sustainable solvents, particularly ionic liquids. I am interested in developing sustainable materials and we are focussing on metal deposition and dissolution which I feel are some of the most pressing issues in green chemistry. Reducing aqueous effluents of heavy metals are some of the most pressing issues because of the acute toxicity and large volumes of the processes. These are ubiquitous problems and all of the solutions tend to be end of pipe. Our approach is to use ionic media to avoid aqueous effluent. This also allows us to build in more energy efficient deposition processes. We have take a number of these to commercial scale. We produce our liquid systems with the catch phrase "benign by design". We ensure that rather than looking for the perfect chemical system we start with the perfect environmental system and then tailor it to the application. Our work is also investigating novel starch based plastics building biodegradation in from the outset and attempting to modify to material to obtain the optimum mechanical properties.
What do you see as the main challenges facing research in this area?
The main challenge facing Green Chemistry is the conservative tendency in manufacturing which leads to small incremental change. The challenge from an academic point of view is retaining credibility for new technologies. We still tend to go in fads such as supercritical fluids or ionic liquids and see them as a panacea. Process design tends to be lacking from many approaches. There is also a tendency to claim that something is Green as if it is an absolute that can be achieved. We need to focus on relative improvements in green metrics.
Where do you see the field of Green Chemistry being in 5 or 10 years time?
One of the challenges in Green Chemistry over the next 10 years is retaining credibility and building successful case studies. It should be seen as a goal in all processes to improve the green metrics and it should be a key goal to develop simple criteria that are non-quantitative but are highly indicative of the relative improvements that a process makes over existing technology. A simple scale or traffic light scheme which quantified changes in key indicators such as the scale of the process, the relative change in the hazard, environmental impact, and the practicality of the methodology.
And finally…
If you could not be a scientist, but could be anything else, what would you be?
Chemistry was always my fallback position. I always wanted to be an artist and had it not been for my lack of talent I would have surely made it. Recently I fulfilled a personal challenge to combine both areas and I devised a public lecture on the chemists role in art entitled "From Test Tube to Turner" which I gave at Burlington House. Even in this lecture there is still some Green Chemistry where I discuss the chemists desire to remove toxic heavy metals from the artists palette.
A couple of Andy's recent Green Chemistry articles are currently free to access until the 18th July 2012:
Salt modified starch: sustainable, recyclable plastics, Andrew P. Abbott, Andrew D. Ballantyne, Jesus Palenzuela Conde, Karl S. Ryder and William R. Wise, Green Chem., 2012, 14, 1302-1307
Processing of metals and metal oxides using ionic liquids, Andrew P. Abbott, Gero Frisch, Jennifer Hartley and Karl S. Ryder, Green Chem., 2011, 13, 471-481