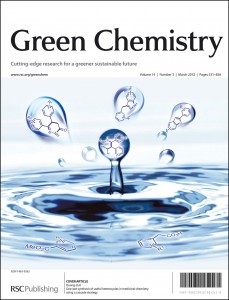 The latest issue of Green Chemistry is now online!
The front cover of this issue highlights work by Yong Huang (Peking University, China) and Hong Shen (Merck Research Laboratories, New Jersey, USA) and colleagues who report the synthesis of medicinally useful heterocycles such as pyridazinones and dihydropyrimidinones through a mild and highly efficient one-pot triple cascade procedure.  The cascade involves a Claisen-decarboxylation, an electrophilic reaction and subsequent heterocyclisation.  Indazoles and benzofurans could also be constructed through a double cascade reaction. 
One-pot synthesis of useful heterocycles in medicinal chemistry using a cascade strategy, Guiyong Wu, Weiyu Yin, Hong C. Shen and Yong Huang, Green Chem., 2012, 14, 580-585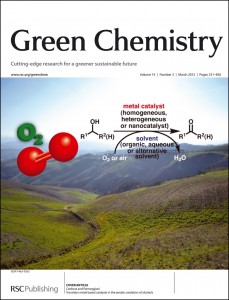 The inside front cover features a Tutorial Review by Camilla Parmeggiani and Francesca Cardona from the University of Florence, Italy on transition metal based catalysts for the aerobic oxidation of alcohols.  The review covers advances in this area over the last 15 years, looking at transition metal catalysts in their various forms, i.e.homogeneous, heterogeneous or nanoparticles. 
Transition metal based catalysts in the aerobic oxidation of alcohols, Camilla Parmeggiani and Francesca Cardona, Green Chem., 2012, 14, 547-564
These articles have been made free to access for 6 weeks!
Stay up-to-date with the latest content in Green Chemistry by registering for our free table of contents alerts.