2023 marks twenty years of Organic & Biomolecular Chemistry publications. As part of the celebrations, OBC has invited some of the most prominent authors across our history to give their thoughts on the last twenty years of their career alongside their predictions for the next two decades.
The next entry to the series comes from previous Editorial Board member Dame Margaret Brimble at the University of Auckland, who first published with OBC in 2003, the journal's first year. She has continued to support the journal across the years with 61 articles across the years, the most any author has published with OBC.
About Margaret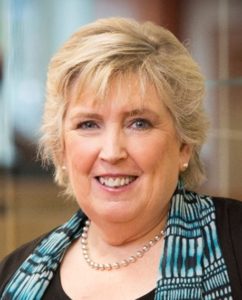 Dame Margaret Brimble FRS is the Director of Medicinal Chemistry and a Distinguished Professor at the University of Auckland. She is an Associate Editor for Organic Letters, Deputy Director of the Maurice Wilkins Centre of Molecular Biodiscovery, Past-President of IUPAC Organic and Biomolecular Division III and Past-President of the International Society of Heterocyclic Chemistry. She has published >560 papers, 96 reviews and is an inventor on >50 patents.
Margaret is a Fellow of the Royal Society London, Dame Companion of the New Zealand Order of Merit and has been inducted into the American Chemical Society Medicinal Chemistry Hall of Fame. She was awarded the Rutherford, Hector and MacDiarmid medals (Royal Society NZ), the 2023 American Chemical Society Ernest Guenther Award for Natural Products Chemistry, the 2022 Royal Society of Chemistry Pedler Award for Innovation in Organic Chemistry and the BNZ Kiwinet Supreme Commercialization Award. She was also named the 2007 L'Oreal-UNESCO Women in Science laureate in Materials Science for Asia-Pacific and a 2015 IUPAC Distinguished Women in Chemistry/Chemical Engineering.
Margaret's research focuses on the synthesis of novel bioactive natural products/antimicrobial peptides, antibody-drug conjugates and lipopeptides for cancer vaccines and new biomaterials. She discovered the drug 'Trofinetide' (NNZ2566) for Neuren Pharmaceuticals (www.neurenpharma.com) that was then successful in phase 3 clinical trials conducted by Acadia Pharmaceuticals (www.acadia.com) and approved by the US Food and Drug Administration (FDA) for the treatment of Rett syndrome on March 10, 2023. The drug, marketed under the name DAYBUE™, is now available for prescription in the United States.
 A second unique neurotrophic drug candidate NNZ-2591 also discovered by Professor Brimble's lab has been demonstrated to give positive results in pre-clinical models of four additional neurodevelopmental disorders – Angelman syndrome, Pitt Hopkins syndrome, Phelan-McDermid syndrome and Prader-Willi syndrome and is entering phase 2 clinical trials for these disorders. She also co-founded the cancer immunotherapy company SapVax (Cleveland, Ohio; www.sapvaxllc.com) with US$7 million funding from BioMotiv USA that licensed her CLipPA peptide lipidation technology to develop self-adjuvanting peptide-based cancer vaccines.
First OBC Paper: M. A. Brimble, R. M. Davey, M. D. McLeod & M. Murphy, Synthesis of 3-azido-2,3,6-trideoxy-β-D-arabino-hexopyranosyl pyranonaphthoquinone analogues of medermycin, Org. Biomol. Chem., 2003, 1, 1690-1700, DOI: 10.1039/b301449p
Most recent OBC Paper: A. D. W. Earl, F. F. Li, C. Ma, D. P. Furkert & M. A. Brimble, Stereoselective synthesis of the spirocyclic core of 13-desmethyl spirolide C using an aza-Claisen rearrangement and an exo-selective Diels–Alder cycloaddition, Org. Biomol. Chem., 21, 1222-1234, DOI: 10.1039/d2ob01992b
Favourite OBC Paper: J. Robinson & M. A. Brimble, Synthesis of the anti-Helicobacter pylori Agent (+)-Spirolaxine Methyl Ether and the Unnatural (2″S)-Diastereomer, Org. Biomol. Chem., 5, 2572-2582, DOI: 10.1039/b708265g
How has your research developed over the last 20 years?
I started my academic career at a small agricultural university in New Zealand with limited resources and few graduate students. I worked on the synthesis of members of the pyranonaphthoquinone antibiotics that are bioreductive alkylating agents e.g kalafungin, frenolicin, nanaomycin, actinorhodin, medermycin, griseusin, cardinalin. I then moved to larger universities – first the University of Sydney for 4 years then the University of Auckland where I have worked for over 20 years. Whilst at Auckland I expanded my research to work on the synthesis of benzannulated spiroketals such as rubromycin, berkelic acid, peniphenone, paecilospirone, chaetoquadrin, spirolaxine and shellfish toxins such as spirolides, gymnodimine, pectenotoxins and portimine. In my early days at Auckland University I also carried out some peptidomimetic work that led to the discovery of the drug candidate 'Trofinetide' for Neuren Pharmaceuticals that was successful in phase 3 clinical trials for Rett Syndrome and has recently been approved by the FDA. This venture into peptidomimetic chemistry led me to establish a solid phase peptide chemistry group that has now become an integral part of our research programme. We are working on antibody-drug conjugates, antimicrobial and antiviral peptides, peptide-based biomaterials and peptide-based vaccines for infectious disease and cancer.
How has the encompassing field of your research changed over the last two decades?
Moving into peptide chemistry prompted me to combine this with my natural products synthesis work and establish a programme to synthesize complex peptide natural products that exhibit antimicrobial activity such as cadaside, malacidin, teixobactin, paenipeptin, laterocidine, brevicidine and glycopeptides (tikitericin, glycocin F and EPO). We also developed a new patented method to effect the lipidation of peptides using a thiol-ene reaction on cysteines coin 'CLipPA' (Cysteine Lipidation of Peptides and Amino acids). We have applied this to the field of self-adjuvanting cancer vaccines (co-founded SapVax Ltd), peptide hormones, antimicrobial lipopeptides (the polymyxins, antiviral peptides e.g anti-HBV peptides) and peptide hydrogels.
Where do you see the challenges being for this field over the next 20 years?
It will be interesting to see how AI impacts the design of synthetic routes to complex natural products and how automation techniques continue to help the field of natural product synthesis. Incorporation of chemoenzymatic methods into natural products synthesis will also become routine. As for solid phase peptide synthesis we have initiated some flow chemistry work to enable fast efficient production of neoantigens for personalised vaccines.
Check out the other entries in our blog series here!