Modelling in Environmental Nanotechnology – an Environmental Science:Nano themed issue!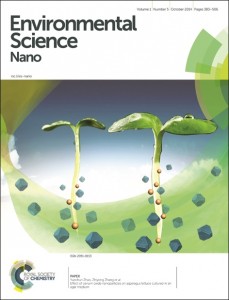 We invite you to contribute your exciting research to our special issue on Modelling in Environmental Nanotechnology.
Guest Edited by Mohammed Baalousha, Jamie Lead, Panos G. Georgopoulos and Dave Spurgeon, t
his themed issue will include a set of papers presenting state-of-the-art models for the fate, behavior, exposure, uptake and toxicity of nanomaterials in the environment and in organisms. This will include a wide range of model types for environmental and biological processes affecting nanomaterial behavior and effects. Review papers on the state of the science for particular model subsets, e.g. computational toxicology or bio-uptake modelling are also desired.
For more information on the scope of Environmental Science: Nano, our article types and author guidelines, please visit our website or email us esnano-rsc@rsc.org.

Please note that all submitted manuscripts will be subject to peer review in accordance to the journals high quality standards.
Submission Deadline: 15th March 2015
We hope to receive a manuscript from you or your group soon.