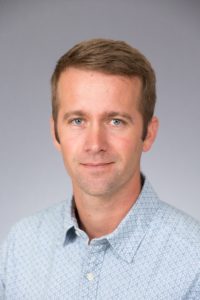 Dr. Garrett McKay joined the Zachary Department of Civil & Environmental Engineering at Texas A&M University in September 2019 as an assistant professor. Dr. McKay's research focuses on the fundamental chemistry occurring in natural and engineered systems, including aquatic photochemistry, dissolved organic matter characterization, and treatment of emerging contaminants.  After graduating with his BA and MS in chemistry at California State University Long Beach, Dr. McKay completed a PhD in Environmental Engineering in 2017 at CU Boulder. Dr. McKay is looking forward to contributing to the growing Environmental Engineering program at A&M by sharing his passion for chemistry with undergraduate and graduate students through his teaching and research.
Read Garrett McKay's Emerging Investigator Series article "Critical review of photophysical models for the optical and photochemical properties of dissolved organic matter" and read more about his in the interview below:
Your recent Emerging Investigator Series paper focuses on a Critical review of photophysical models for the optical and photochemical properties of dissolved organic matter. How has your research evolved from your first article to this most recent article?
During my PhD, my research mostly focused on the formation of reactive oxidants during light absorption by organic matter, which is one way that organic matter dissipates the energy of absorbed photons.  As our studies progressed in this area, they revealed that there was a need to investigate how it is that organic matter absorbs and emits light in the first place. 
What aspect of your work are you most excited about at the moment?
We have just started synthesizing some quinone-hydroquinone complexes to test whether these model systems exhibit optical properties similar to dissolved organic matter.  We are looking forward to getting back in the lab, when it is safe to do so due to SARS-CoV-2, and performing some reactions on these complexes.
In your opinion, what are the most important questions to be asked/answered in this field of research?
The three-dimensional structure of organic matter is really important for a lot of processes, not just light absorption and photochemistry, such as pollutant sorption.  Knowing more specific details about organic matter's three-dimensional structure (e.g., hydrophobic surface area, whether the structure is static or dynamic) will help address some of the knowledge gaps identified in this review.
What do you find most challenging about your research?
The biggest challenge is the complexity of dissolved organic matter, which really hinders obtaining a molecule-by-molecule understanding of the material.  Fortunately, this complexity is also fascinating to me.
In which upcoming conferences or events may our readers meet you?
The International Humic Substances Society biennial conference is scheduled for August in Estes Park, CO in August, which I am planning to attend.  I am usually at the spring ACS meeting each year to participate in the Aquatic Photochemistry session in the Division of Environmental Chemistry.
How do you spend your spare time?
I enjoy spending time with my wife and playing with our 10 month old son. When I have spare time I try to get out for a run or round of golf.
Which profession would you choose if you were not a scientist?
Potentially an attorney.  I think I would like the analytical nature of their work.
Can you share one piece of career-related advice or wisdom with other early career scientists?
Invest the time to develop a fundamental understanding of what you are studying, whether it is a new experimental or analytical technique, fundamental concept, or data analysis tool.  With the pressure of getting research "done," it can be tempting to gloss over details.  Taking the time dig deeper is beneficial in the long-run.