In March 2020 Environmental Science: Processes & Impacts published a special issue on Halogenated (semi)volatile organic compounds ("X(S)VOCs").
Guest Edited by Elizabeth Edwards (University of Toronto), Lucy Carpenter (University of York), Sarah Blossom (University Arkansas Medical Science) and ESPI Associate Editor Paul Tratnyek (Oregon Health & Science University) this Themed Issue features research and reviews on chlorinated solvents, their metabolites, disinfection byproducts, and their environmental occurrence, fate, effects, and remediation. You can read the Editorial introducing this issue here.

Read the full issue at rsc.li/halocarbons
Below is a small selection of some of the articles featured in this issue:
Retrospective on microbial transformations of halogenated organics
L. McCarty, C. S. Criddle and T. M. Vogel
Placenta as a target of trichloroethylene toxicity
Elana R. Elkin, Sean M. Harris, Anthony L. Su, Lawrence H. Lash and Rita Loch-Caruso
Quantifying the efficiency and selectivity of organohalide dechlorination by zerovalent iron
Feng He, Li Gong, Dimin Fan, Paul G. Tratnyek and Gregory V. Lowry
Natural and anthropogenic sources of bromoform and dibromomethane in the oceanographic and biogeochemical regime of the subtropical North East Atlantic
Melina Mehlmann, Birgit Quack, Elliot Atlas, Helmke Hepach and Susann Tegtmeier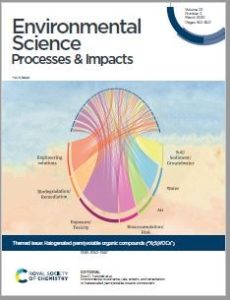 Diverse dechlorinators and dechlorination genes enriched through amendment of chlorinated natural organic matter fractions
Hanna R. Temme and Paige J. Novak
Summation of disinfection by-product CHO cell relative toxicity indices: sampling bias, uncertainty, and a path forward
Elizabeth McKenna, Kyle A. Thompson, Lizbeth Taylor-Edmonds, Daniel L. McCurry and David Hanigan
Comparison of modeled and measured indoor air trichloroethene (TCE) concentrations at a vapor intrusion site: influence of wind, temperature, and building characteristics
Elham Shirazi, Gregory S. Hawk, Chase W. Holton, Arnold J. Stromberg and Kelly G. Pennell
We hope that you enjoy reading the great research featured in this issue.