Energy & Environmental Science 'HOT' Communication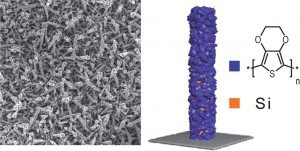 Yi Cui and co-workers have markedly improved the cycling stability of a silicon nanowire anode by coating it with a conducting polymer (PEDOT).
Charge-discharge cycling experiments showed that the polymer-coated nanowires retained 80% of their original capacity after 100 cycles, compared to only 30% capacity retention for bare nanowires.
It is thought that the improved retention is due to the polymer having a stabilising effect on the nanowires as they undergo the large volume changes that accompany the charge-discharge cycles. PEDOT may also help to maintain electrical connections between the wires that would otherwise be lost during cycling.

The authors believe that polymer coated anodes could potentially be used to improve the performance of lithium-ion batteries.

Read the Energy & Environmental Science Communication today:
Improving the cycling stability of silicon nanowire anodes with conducting polymer coatings
Yan Yao, Nian Liu, Matthew T. McDowell, Mauro Pasta and Yi Cui
Energy Environ. Sci., 2012, DOI: 10.1039/C2EE21437G