Following the successful partnership with SuNEC 2011, EES will publish manuscripts originating from the SuNEC 2012 meeting to be held on September 4-6, 2012 in Sicily, Italy.
Delegates are encouraged to submit their work to EES — whose Abstract will be submitted to SuNEC 2012 for oral or poster presentation — submission deadline is 30 September 2012.
Manuscripts can be submitted (in almost any electronic format and reasonable layout) through the EES online submission service. See Author Guidelines for more information. All articles will be subject to rigorous peer-review according to the journal's usual standards – if accepted, they well receive great exposure, and will get significant promotion.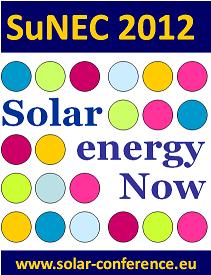 Registration and Key Deadlines:
SuNEC Registration deadline: 31-Jul-12 (Register now)

SuNEC Abstract submission: 27-Jun-12


Manuscripts to EES: 30-Sept-12
Submit your best work to EES today!