We are delighted to welcome Professor Christian Doonan to the CrystEngComm team as one of our Associate Editors!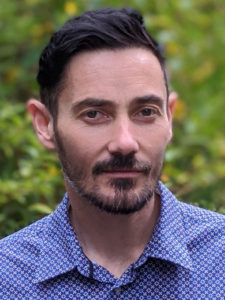 Christian Doonan is Professor of chemistry at the University of Adelaide. He received his PhD at the University of Melbourne and carried out post-doctoral work with Professor Omar Yaghi at the University of California, Los Angeles.
His research group focuses on the design and synthesis of Metal-organic Framework materials for application to biotechnology and catalysis. Christian is a member of the international MOF commission and his research has been recognised through several awards including, an Australian Research Council Future Fellowship, a distinguished lectureship award from the Chemical Society of Japan and a Double Hundred Talent Professorship at Qingdao University.
Christian also recently guest-edited a themed issue of CrystEngComm with Christopher J. Sumby on Metal-Organic Framework Catalysis.
Browse a selection of Christian's latest work:
Degradation of ZIF-8 in phosphate buffered saline media
Miriam de J. Velásquez-Hernández, Raffaele Ricco, Francesco Carraro, F. Ted Limpoco, Mercedes Linares-Moreau, Erich Leitner, Helmar Wiltsche, Johannes Rattenberger, Hartmuth Schröttner, Philipp Frühwirt, Eduard M. Stadler, Georg Gescheidt, Heinz Amenitsch, Christian J. Doonan and Paolo Falcaro
CrystEngComm, 2019, 21, 4538-4544
DOI: 10.1039/C9CE00757A, Paper
Carbohydrates@MOFs
Efwita Astria, Martin Thonhofer, Raffaele Ricco, Weibin Liang, Angela Chemelli, Andrew Tarzia, Karen Alt, Christoph E. Hagemeyer, Johannes Rattenberger, Hartmuth Schroettner, Tanja Wrodnigg, Heinz Amenitsch, David M. Huang, Christian J. Doonan and Paolo Falcaro
Mater. Horiz., 2019, 6, 969-977
DOI: 10.1039/C8MH01611A, Communication
Influence of nanoscale structuralisation on the catalytic performance of ZIF-8: a cautionary surface catalysis study
Oliver M. Linder-Patton, Thomas J. de Prinse, Shuhei Furukawa, Stephen G. Bell, Kenji Sumida, Christian J. Doonan and Christopher J. Sumby
CrystEngComm, 2018, 20, 4926-4934
DOI: 10.1039/C8CE00746B, Paper
Study of iron oxide nanoparticle phases in graphene aerogels for oxygen reduction reaction
Ramesh Karunagaran, Campbell Coghlan, Tran Thanh Tung, Shervin Kabiri, Diana N. H. Tran, Christian J. Doonan and Dusan Losic
New J. Chem., 2017, 41, 15180-15186
DOI: 10.1039/C7NJ02979A, Paper

Submit your research to CrystEngComm today! See our author guidelines for information on our article types or find out more about the advantages of publishing in a Royal Society of Chemistry journal. Don't forget to follow us on Twitter to stay up to date with our latest articles, collections and news.