A huge welcome to both Elena Boldyreva and Aurora Cruz-Cabeza who have joined us as Editorial Board members for CrystEngComm!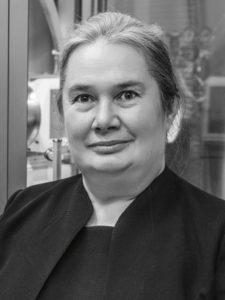 Professor Dr Elena Boldyreva is employed by Boreskov Institute of Catalysis Siberian Branch of Russian Academy of Sciences and is the Head of the Chair of Solid State Chemistry of the Novosibirsk State University. She graduated from Novosibirsk State University in 1982 and received her PhD in Physical Chemistry in 1988 and her Dr. Sci. in Solid State Chemistry in Russia. Elena Boldyreva is an Honorary Doctor of Sciences of the University of Edinburgh, a Corresponding Member of the Academy of Sciences and Arts of Slovenia and a Mameber of the Academia Europea. She was a Humboldt Fellow and have spent many research terms in Germany, UK, Italy, France.
Her main interests are in the polymorphism of drugs and biomimetics, the properties of hydrogen bonds and the role of kinetic factors in solid-state transformations. She also continues to study the relation between stresses and solid-state reactivity, with particular interest in photo- and thermo- mechanical effects.
Below is a selection of articles Elena has published with us:
Ball size or ball mass – what matters in organic mechanochemical synthesis?
Adam A. L. Michalchuk, Ivan A. Tumanov and Elena V. Boldyreva
CrystEngComm, 2019,21, 2174-2179
DOI: 10.1039/C8CE02109K, Paper
Pressure-driven phase transition mechanisms revealed by quantum chemistry: L-serine polymorphs
Denis A. Rychkov, Jernej Stare and Elena V. Boldyreva
Phys. Chem. Chem. Phys. , 2017, 19, 6671-6676
DOI: 10.1039/C6CP07721H, Paper
High pressure: a complementary tool for probing solid-state processes
Boris A. Zakharov and Elena V. Boldyreva
CrystEngComm, 2019, 21, 10-22
DOI: 10.1039/C8CE01391H, Highlight
Quantification of photoinduced bending of dynamic molecular crystals: from macroscopic strain to kinetic constants and activation energies
Stanislav Chizhik, Anatoly Sidelnikov, Boris Zakharov, Panče Naumov and Elena Boldyreva
Chem. Sci., 2018, 9, 2319-2335
DOI: 10.1039/C7SC04863G, Edge Article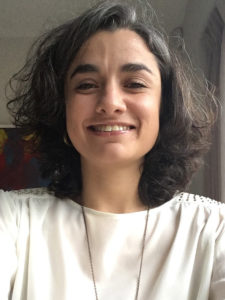 Dr. Aurora J. Cruz-Cabeza is a Senior Lecturer at the University of Manchester, School of Chemical Engineering and Analytical Sciences. After her PhD from the University of Cambridge (2008), she worked at Pfizer and then held several postdoctoral positions at the Cambridge Crystallographic Data Centre, the University of Amsterdam and Hofmann-La Roche. She arrived to Manchester in 2016 where she has established her own research group in solid state chemistry and crystallisation.
Aurora has authored over 50 research articles and has given over 60 research talks around the world. Some of her best well-known work lies in the area of polymorphism in molecular crystals. She currently holds a Royal Society Industry Fellowship in AstraZeneca and has served as guest editors for several special editions for CrystEngComm. Aurora is also a mother of a wonderful boy, she loves travelling, photography, music and Spain.
Aurora was one of the guest editors for our recent themed issue on The Solid State of Pharmaceuticals with Katharina Edkins.
Browse a selection of work published by Aurora below:
Polymorphism in p-aminobenzoic acid
Aurora J. Cruz-Cabeza, Roger J. Davey, Iain D. H. Oswald, Martin R. Ward and Isaac J. Sugden
CrystEngComm, 2019, 21, 2034-2042
DOI: 10.1039/C8CE01890A, Highlight
Aromatic stacking – a key step in nucleation
Aurora J. Cruz-Cabeza, Roger J. Davey, Sharlinda Salim Sachithananthan, Rebecca Smith, Sin Kim Tang, Thomas Vettera and Yan Xiao
Chem. Commun., 2017, 53, 7905-7908
DOI: 10.1039/C7CC02423A, Communication
On the prevalence of smooth polymorphs at the nanoscale: implications for pharmaceuticals
Ana M. Belenguer, Aurora J. Cruz-Cabeza, Giulio I. Lampronti and Jeremy K. M. Sanders
CrystEngComm, 2019, 21, 2203-2211
DOI: 10.1039/C8CE02098A, Paper
Discovery and recovery of delta p-aminobenzoic acid
Martin R. Ward, Shatha Younis, Aurora J. Cruz-Cabeza, Craig L. Bull, Nicholas P. Funnellc and Iain D. H. Oswald
CrystEngComm, 2019, 21, 2058-2066
DOI: 10.1039/C8CE01882K, Paper