We are delighted to share with you our latest collection of recently published articles focusing on Polymorphism in Molecular Crystals, handpicked by Editorial Board Member Aurora Cruz-Cabeza. This collection is dedicated to the late Professor Joel Bernstein who endeavoured much of his work to the study of polymorphism and inspired many of us.
These articles are free to access until October 31st 2019 and we hope you enjoy reading them.
We invite you to submit your research to CrystEngComm and give your work the global visibility it deserves.
Featured articles:
L-Malic acid crystallization: polymorphism, semi-spherulites, twisting, and polarity
Jingxiang Yang, Chunhua T. Hu, Alexander G. Shtukenberg, Qiuxiang Yin and Bart Kahr
CrystEngComm, 2018, 20, 1383-1389. DOI: 10.1039/C7CE02107K
Serendipitous isolation of a disappearing conformational polymorph of succinic acid challenges computational polymorph prediction
Paolo Lucaioli, Elisa Nauha, Ilaria Gimondi, Louise S. Price, Rui Guo, Luca Iuzzolino, Ishwar Singh, Matteo Salvalaglio, Sarah L. Price and Nicholas Blagden
CrystEngComm, 2018, 20, 3971-3977. DOI: 10.1039/C8CE00625C
Polymorphism of chlorpropamide on liquid-assisted mechanical treatment: choice of liquid and type of mechanical treatment matter
Nadia Bouvart, Roland-Marie Palix, Sergey G. Arkhipov, Ivan A. Tumanov, Adam A. L. Michalchuk and Elena V. Boldyreva
CrystEngComm, 2018, 20, 1797-1803, DOI: 10.1039/C7CE02221B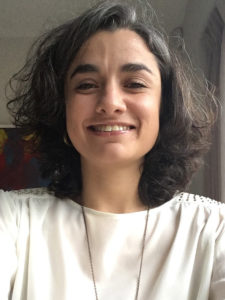 Meet the Editor
Editorial Board Member Dr Aurora Cruz-Cabeza is a Senior Lecturer at the University of Manchester, School of Chemical Engineering and Analytical Sciences. She has established her own research group in solid state chemistry and crystallisation. Aurora has authored over 50 research articles and has given over 60 research talks around the world. Some of her best well-known work lies in the area of polymorphism in molecular crystals.