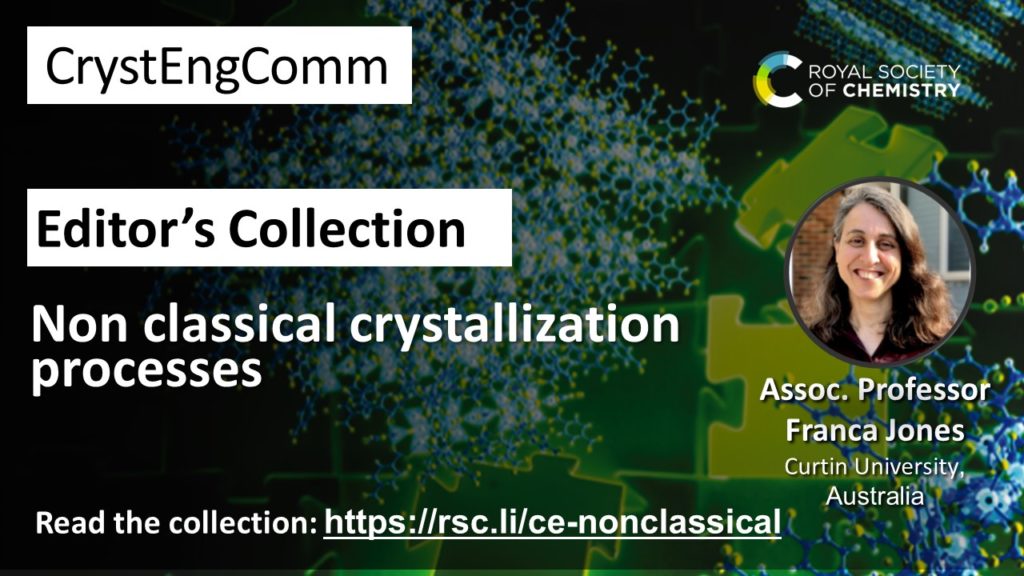 We are delighted to share with you our latest Editor's Collection on Non-classical crystallization processes.
This latest collection of recently published articles focusing on Non-classical crystallization processes has been handpicked by CrystEngComm Advisory Board Member, Associate Professor Franca Jones (Curtin University, Australia).
For many years the classical picture of nucleation and growth was accepted and successfully used to understand a variety of crystallization processes but more recently non-classical processes at either or both the nucleation or the growth stages have been hypothesized to better explain experimental observations. This Editor's collection highlights recent contributions to CrystEngComm that are broadly focused on non-classical crystallization. The selection of articles showcases the wide range of systems where non-classical processes are observed, the broad range of possible non-classical mechanisms (from non-classical nucleation to oriented attachment) and the importance of these processes. It is clear that non-classical mechanisms are becoming the norm and understanding these mechanisms will be vital to all crystallization experts.
Browse some of the articles in the collection below:
Mesoscale clusters of organic solutes in solution and their role in crystal nucleation

Michael Svärd

CrystEngComm, 2022,24, 5182-5193

Influence of water concentration on the solvothermal synthesis of VO2(B) nanocrystals

Brittney A. Beidelman, Xiaotian Zhang, Karla R. Sanchez-Lievanos, Annabel V. Selino, Ellen M. Matson and Kathryn E. Knowles

CrystEngComm, 2022,24, 6009-6017

A nonclassical pathway to biomimetic strained SrSO4 crystals

Rina Fujimaki, Yuya Oaki and Hiroaki Imai

CrystEngComm, 2022,24, 4356-4360
We hope you enjoy these articles and the rest in the collection.
Meet the Editor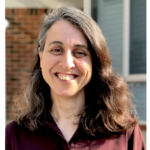 Associate Professor Franca Jones graduated from the University of Sydney and did her PhD at Curtin University. Assoc. Prof. Jones then spent two years at the Max Planck Institute for Colloids and Interfaces before returning to Australia. She has a background in chemistry and her research has focused on crystallisation phenomena, particularly on the impact additives and impurities have on those processes as they relate to scaling. She is currently the Director of Graduate Research in the School of Molecular and Life Sciences (MLS), Curtin University, having been a member of staff for more than 20 years.
About CrystEngComm
Published by the Royal Society of Chemistry and with a truly international Editorial Board, CrystEngComm is the forum for the design and understanding of crystalline materials. We welcome studies on the investigation of molecular behaviour within crystals, control of nucleation and crystal growth, engineering of crystal structures, and construction of crystalline materials with tuneable properties and functions.
We invite you to submit your research to CrystEngComm to give your work the global visibility it deserves.
Follow us on X (formerly Twitter) @CrystEngComm and sign up to our e-alerts to keep up to date with the latest articles and other journal news.