We are delighted to highlight the Biomaterials Science 10th anniversary collection – free to read until the end of November!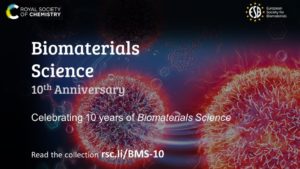 Biomaterials Science is an international high impact journal exploring the science of biomaterials and their translation towards clinical use. Its scope encompasses new concepts in biomaterials design, the interaction of biomaterials with the body, and the use of materials to answer fundamental biological questions. Biomaterials Science published its first volume over 10 years ago, and since then we have published work from more than 3500 authors from over 50 countries.
 
Our 10th anniversary collection comprises high quality research and review articles from some of the top authors in biomaterials, with new publications continuing to be added – we hope you enjoy reading the featured work!
 
To introduce the 10th anniversary collection, current Biomaterials Science Editor-in-Chief Jianjun Cheng and Executive Editor Maria Southall have written an Editorial reflecting on the past 10 years of the journal as well as looking forwards: "Our aim is for our scope to not only reflect the current biomaterials field, but where it appears to be heading in the future." This outstanding themed collection, reflecting our diversity of authors and our breadth of insight, now comprises more than 45 publications and we would like to thank all the authors who have contributed so far!
We have highlighted a selection of articles from the collection below and these are free to access until 30th November at:  https://rsc.li/BMS-10                                                                                             

Development of substrates for the culture of human pluripotent stem cells
Eihachiro Kawase and Norio Nakatsuji
Biomater. Sci., 2023,11, 2974-2987
Engineering optical tools for remotely controlled brain stimulation and regeneration
Artur Filipe Rodrigues, Catarina Rebelo, Tiago Reis, Susana Simões, Liliana Bernardino, João Peça and Lino Ferreira
Biomater. Sci., 2023,11, 3034-3050
Injectable biomaterial induces regeneration of the intervertebral disc in a caprine loaded disc culture model
Joseph W. Snuggs, Kaj S. Emanuel, Christine Rustenburg, Ronak Janani, Simon Partridge, Christopher Sammon, Theo H. Smit and Christine L. Le Maitre
Biomater. Sci., 2023,11, 4630-4643
Facile synthesis of poly(disulfide)s through one-step oxidation polymerization for redox-responsive drug delivery
Ruhe Zhang, Tianqi Nie, Liying Wang, Danni He, Yang Kang, Chao Zhang and Jun Wu
Biomater. Sci., 2023,11, 4254-4264
Antiviral supramolecular polymeric hydrogels by self-assembly of tenofovir-bearing peptide amphiphiles
Maya K. Monroe, Han Wang, Caleb F. Anderson, Meng Qin, Chloe L. Thio, Charles Flexner and Honggang Cui
Biomater. Sci., 2023,11, 489-498
Expanding opportunities to engineer mucosal vaccination with biomaterials
Helena Freire Haddad, Emily F. Roe and Joel H. Collier
Biomater. Sci., 2023,11, 1625-1647
In vivo evaluation of compliance mismatch on intimal hyperplasia formation in small diameter vascular grafts
Yuan Yao, Grace Pohan, Marie F. A. Cutiongco, YeJin Jeong, Joshua Kunihiro, Aung Moe Zaw, Dency David, Hanyue Shangguan, Alfred C. H. Yu and Evelyn K. F. Yim
Biomater. Sci., 2023,11, 3297-3307
Biomedically-relevant metal organic framework-hydrogel composites
Jason Y. C. Lim, Leonard Goh, Ken-ichi Otake, Shermin S. Goh, Xian Jun Loh and Susumu Kitagawa
Biomater. Sci., 2023,11, 2661-2677
Toxicity and efficacy of green tea catechin derivative-based micellar nanocomplexes for anticancer protein delivery
Sijing Xiong, Susi Tan, Peng Huang, Yao Li, Joo Eun Chung, Motoichi Kurisawa, Daniele Zink and Jackie Y. Ying
Biomater. Sci., 2023,11, 4675-4683
3D bioprinting complex models of cancer
Ruchi Sharma, Milena Restan Perez, Victor Allisson da Silva, Jess Thomsen, Lavanya Bhardwaj, Thiago A. M. Andrade, Abdulaziz Alhussan and Stephanie M. Willerth
Biomater. Sci., 2023,11, 3414-3430
We would like to thank all our authors, reviewers, and readers for your incredible support since we launched the journal, and we look forward to seeing what developments the next decade will bring!