It is with great pleasure that we announce Yizhou Dong (Ohio State University) as the recipient of the 2022 Biomaterials Science lectureship.
This award, now in its ninth year, honours an early-career researcher who has made significant contribution to the biomaterials field. The recipient is selected by the Biomaterials Science Editorial Board from a list of candidates nominated by the community.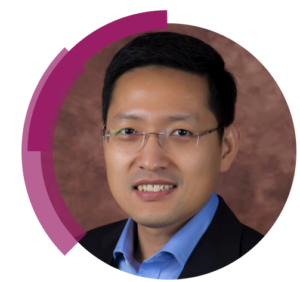 Yizhou Dong is an Associate Professor in the Division of Pharmaceutics and Pharmacology, College of Pharmacy at The Ohio State University (OSU). He is also a member of multiple globally recognized research initiatives, such as the Translational Therapeutics Program, the Pelotonia Institute for Immuno-Oncology, the Center for Cancer Engineering, and the Center for Cancer Metabolism at the OSU Comprehensive Cancer Center. Dr. Dong received his B.S. in pharmaceutical sciences from Peking University, Health Science Center and M.S. in organic chemistry from Shanghai Institute of Organic Chemistry. In 2009, he received his Ph.D. degree in pharmaceutical sciences from the University of North Carolina at Chapel Hill (UNC-CH) under the supervision of Professor K.-H. Lee. From 2010 to 2014, he was a postdoctoral fellow in the laboratory of Professors Robert Langer and Daniel Anderson at Harvard Medical School and Massachusetts Institute of Technology.
Dr. Dong's research focuses on the design and development of biotechnology platforms for the treatment of genetic disorders, infectious diseases, and cancers. He has authored over one hundred papers and patents. Several of his inventions have been licensed and are currently under development as drug candidates for clinical trials. Dr. Dong is the recipient of numerous awards, such as the Young Innovator in Cellular and Molecular Bioengineering from the Biomedical Engineering Society, the Maximizing Investigators' Research Award from the National Institute of General Medical Sciences (NIGMS), the Ohio State Early Career Innovator of the Year, and the American Association of Pharmaceutical Scientists (AAPS) Emerging Leader Award. In 2022, he was elected as a fellow of The American Institute for Medical and Biological Engineering (AIMBE).
Read Yizhou's latest article in Biomaterials Science "Harnessing lipid nanoparticles for efficient CRISPR delivery" and his other publications in Biomaterials Science for FREE 22 July. These and articles from our previous lectureship winners can be found in our lectureship winners collection.
Read our interview with Yizhou below:
How has your research evolved from your first article to this most recent article?
I have been passionate about research in drug discovery and delivery. My first article was in synthetic methodology, which laid a solid foundation for my knowledge and skills in chemical synthesis. In our recent studies, we and our collaborators integrate our specialty in pharmaceutical chemistry, pharmaceutics, biomedical engineering, materials formulation, and animal studies for developing diverse therapeutic medicines.
What excites you most about your area of research and what has been the most exciting moment of your career so far?
It is very exciting to see important discoveries in biomaterials and biotechnologies to help understand fundamental sciences and solve real-world problems. I am most excited when I talk with students and postdocs about new ideas to address various medical needs.
In your opinion, what are the most important questions to be asked/answered in your field of research? 
What is an effective and efficient strategy to connect preclinical and clinical data? In another word, what types of preclinical results can improve the success rate for clinical translation of experimental agents? On the other hand, could we create a system to better interpret clinical findings and guide the design of next-generation therapeutic agents?
How do you feel about Biomaterials Science as a place to publish research on this topic?
Biomaterials Science is a leading journal in the field of biomaterials, which covers broad topics such as molecular design, drug delivery, and biointerface studies. It is a wonderful platform to share new findings and results in Biomaterials Science. Also, the journal offers various opportunities including special issues, blogs, and conferences to authors and readers.
Which of your Biomaterials Science publications are you most proud of and why?
We recently published a review article entitled "Harnessing lipid nanoparticles for efficient CRISPR delivery" on Biomaterials Science. With the breakthrough of lipid nanoparticle-mRNA vaccines approved for the prevention of COVID-19, there is more and more research interest in lipid nanoparticles. We are excited to highlight the advances of lipid nanoparticles for genome editing and share our perspectives with broad readers of Biomaterials Science.
In which upcoming conferences or events (online or in person) may our readers meet you?
I plan to attend the 32nd Annual Conference of the European Society of Biomaterials in September 2022 at Bordeaux. I look forward to meeting you there.
Can you share one piece of career-related advice or wisdom with early career scientists?
There are many challenges in a research career. Be persistent in your research interest.
How do you spend your spare time?
I like swimming and reading during my spare time. I also enjoy traveling with family and friends.
We would like to thank everybody who nominated a candidate for the 2021 Biomaterials Science Lectureship. The Editorial Board had a very difficult task in choosing a winner from the many excellent and worthy candidates.
Please join us in congratulating Yizhou on winning this award!