Join us in celebrating the 10 year anniversary of Biomaterials Science
This year we are proud to celebrate 10 years of Biomaterials Science. Our pilot issue was published in October 2012, and since then we have continued to publish a variety of impactful content from our diverse biomaterials-based community.

We are delighted to announce a number of initiatives to celebrate the journal's 10th anniversary. These include a themed collection featuring work from some top researchers in biomaterials; post-publication collections highlighting the top papers from around the world; and a reviewer spotlight recognising some of our outstanding reviewers. You can find out more about our activities below.

The first Biomaterials Science journal cover from October 2012
About the Journal
Biomaterials Science is an international high impact journal exploring the science of biomaterials and their translation towards clinical use. Its scope encompasses new concepts in biomaterials design, studies into the interaction of biomaterials with the body, and the use of materials to answer fundamental biological questions. Since it was first launched in 2012, Biomaterials Science has published over 3000 articles and reviews from research groups in more than 70 countries.
It is the official journal of the European Society for Biomaterials and we publish annual collections highlighting the best work presented at the annual ESB conference.
In line with the Royal Society of Chemistry's values of inclusion and diversity, Biomaterials Science welcomes work from all areas of biomaterials. High quality is the key determining factor for publishing in Biomaterials Science and we look forward to your continued contributions to the journal.
10th anniversary activities
Biomaterials Science 10th anniversary collection
To introduce the 10th anniversary collection, current Biomaterials Science Editor-in-Chief Jianjun Cheng and Executive Editor Maria Southall have written an Editorial reflecting on the past 10 years of the journal. They look to the future and highlight various journal initiatives which aim to reinforce the journal's reputation as an inclusive home for high-quality and impactful research on biomaterials.
Check out the collection featuring high quality research and review articles from some of the top authors in biomaterials. This collection is ongoing and articles will continue to be added as they are published, so do keep checking the collection. We hope you enjoy reading the exciting work featured in the collection for FREE until 31 December 2022.
Post-publication web collections
We have published web collections from four of our key regions featuring some of the most cited, most downloaded and most shared articles published in Biomaterials Science during the first 10 years of the journal.
Check out the collections for FREE until 31 December 2022.
'Top papers from North America'
Congratulations to all featured authors!
Reviewer spotlight
We are delighted to recognise our outstanding reviewers each year. These reviewers have been previously selected by the Editorial team and the Editorial Board for their support and significant contributions to the journal.
For our 10th anniversary, we have featured some of our most loyal outstanding reviewers who have supported Biomaterials Science in the past few years.
Check out our reviewer spotlight blogs page to find out more about these Biomaterials Science reviewers and read their interviews highlighting advice for authors and reviewers and their thoughts about reviewing for the journal.
Ongoing Biomaterials Science activities
Themed collections
We are delighted to feature your high-impact and relevant work in our themed collections and have published various themed collections on a variety of biomaterials-based topics over the years. Thank you to all of our authors that have featured in the collections; we have enjoyed publishing and promoting your work!
This recent themed collection on CRISPR biomaterials is FREE to read until 31 December 2022. This collection is ongoing so keep an eye out for the exciting work being added.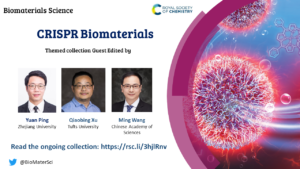 Open calls
Why not submit your work to one of our ongoing themed collections?
We are pleased to announce an open call to submit your work to a themed collection on 'Microneedles' joint with our companion journal, Journal of Materials Chemistry B. Guest Edited by Ester Caffarel-Salvador (Scientific Consultant, USA), Ryan Donnelly (Queen's University Belfast, UK), Harvinder Gill (Texas Tech University, USA) and Hyungil Jung (Yonsei University, Korea), this themed collection aims to bring together recent advancements in the field of microneedles, from materials design to application and all that is in between.
Submissions open until 1 March 2023
More information can be found on this blog post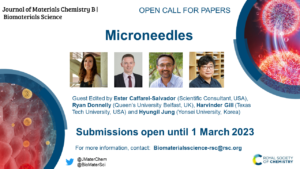 Upcoming themed collections
We are pleased to announce these upcoming themed collections in Biomaterials Science:
Injectable hydrogels with Journal of Materials Chemistry B
3D Bioprinting
More updates to come soon!
Supporting early-career researchers
Biomaterials Science Lectureship
| | |
| --- | --- |
| Since 2014, Biomaterials Science has honoured an early-stage career scientist who has made a significant contribution to the biomaterials field with the annual Lectureship award. So far, we have nine Biomaterials Science Lectureship winners with the most recent winner being Yizhou Dong from Ohio State University in the USA. | |
Read the Lectureship winners collection featuring work from our previous Lectureship winners in Biomaterials Science
Nominations for the 2023 Biomaterials Science Lectureship are now open and the deadline to nominate is 31 December 2022. More information can be found in this blog post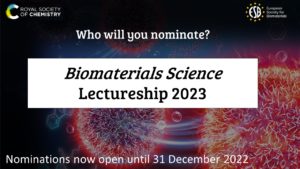 Emerging Investigators Series
Our ongoing Emerging Investigators series showcases the very best work from biomaterials scientists in the early stages of their independent careers in recognition of their potential to influence future directions in the field.
Check out our Emerging Investigators blog page to find out more about some of our featured Emerging Investigators to date.
Read the articles featured in the Biomaterials Science Emerging Investigators collection so far for FREE until 31 December 2022.
We would like to thank all of our authors, reviewers, and readers for your incredible support since we launched and we look forward to seeing what developments the next decade will bring!