HPLC 2017 is due to be held from 18th – 22nd June, in Prague, Czech Republic
   It is our great pleasure and honor to invite you to HPLC 2017 Prague symposium organized for the first time in the Czech Republic. The HPLC symposium series is well known as the world leading forum for the information exchange among researchers dealing with separations in liquid phases and supercritical fluids. The conference program covers all aspects of fundamental and experimental approaches, novel instrumentation, column technologies and cutting-edge applications & instrumentation. The important feature is the coupling with mass spectrometry therefore one program track is devoted to hyphenated techniques only. The large exhibition enables to meet leading vendors presenting their latest technical innovations.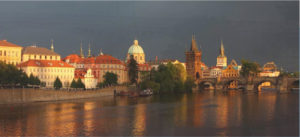 Analytical Methods and sister journal Analyst are pleased to be supporting the symposium, which is shaping up to be yet another high quality HPLC event.
Key Dates
17th April, 2017: Abstract deadline for poster presentations
1st May, 2017: Deadline for regular registration payment
1st May, 2017: Final programme confirmed
1st June: Abstract deadline for late breaking posters