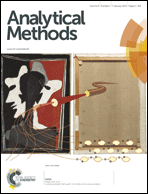 We are delighted to announce our highest Impact Factor* yet with 1.94!

Analytical Methods has continued its impressive growth. The journal maintains its position as a place to publish exciting research on early applied demonstrations of new analytical methods with clear societal impact.
Submissions focus on the advancement of analytical technologies for wider application by the international scientific community. Areas covered include developments within the fields of healthcare, pharmaceuticals and biomedical diagnostics, environmental and forensic analysis, heritage science, agricultural science and food products, industrial process development and product validation.
The Editorial office thanks all of our Board members, authors, readers and reviewers for their continued support.
We invite you to submit your latest piece of high impact work with us here.
Click through to see how the other Royal Society of Chemistry journals did.
*The Impact Factor provides an indication of the average number of citations per paper. Produced annually, Impact Factors are calculated by dividing the number of citations in a year by the number of citeable articles published in the preceding two years. Data based on 2013 Journal Citation Reports®, (Thomson Reuters, 2014).