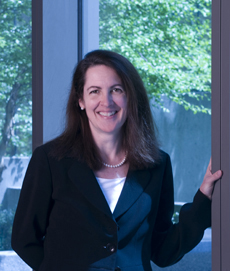 We are delighted that Professor Kathleen Stebe has joined the Soft Matter Editorial Board as an Associate Editor.
Kathleen J. Stebe received a B.A. in Economics from the City College of New York, Magna cum Laude, and a Ph.D. in Chemical Engineering at the Levich Institute, also at CCNY, under the guidance of Charles Maldarelli. Thereafter, she spent a post-doctoral year at the Université de Technologie de Compiègne with Dominique Barthès-Biesel. Professor Stebe joined the Department of Chemical Engineering at Johns Hopkins University, where she rose through the ranks to become Professor and department chair. In 2008, Professor Stebe joined the University of Pennsylvania as the Richer and Elizabeth M. Goodwin Professor of Engineering and Applied Science, where she has served as the department chair and currently serves as the Deputy Dean for Research.
Professor Stebe has been a Fellow at the Radcliffe Institute for Advanced Studies; she has received the Robert S. Pond Excellence in Teaching Award at JHU, the Frenkiel Award from the Division of Fluid Dynamics of the American Physical Society, and was named a Fellow of the APS.
Professor Stebe's research focuses on capillary phenomena, including anisotropic particles interaction and assembly at interfaces and within complex fluids, including liquid crystals and lipid bilayers. She is an expert on interfacial flows, with particular emphasis on how surfactants can be used to direct stresses at interfaces and to alter drop break up modes. Other aspects of her research address dynamic surface tension, rheology of protein laden interfaces, and the design of interfaces and bounding surfaces for biological and materials applications.
To find out more about Professor Stebe's research, take a look at these recent papers:
Marcello Cavallaro Jr, Mohamed A. Gharbi, Daniel A. Beller, Simon Čopar, Zheng Shi, Randall D. Kamien, Shu Yang, Tobias Baumgart and Kathleen J. Stebe
Lorenzo Botto, Eric P. Lewandowski, Marcello Cavallaro and Kathleen J. Stebe
As a
Soft Matter
Associate Editor, Professor Stebe will be handling submissions to the journal. Why not
submit your next paper
to her Editorial Office?