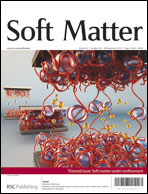 The Soft Matter themed issue on Soft Matter under Confinement is now available to read online! This issue brings together studies which explore the effect of confinement, whether spatial, topological, configurational or at interfaces, on the properties and behaviour of soft matter.
Find out more about the issue in the Editorial, written by Guest Editors Professor Jacob Klein (Weizmann Institute, Israel) and Dr Susan Perkin (Oxford University, UK).
The issue contains reviews …
Physical modelling of the nuclear pore complex
Dino Osmanović, Ariberto Fassati, Ian J. Ford and Bart W. Hoogenboom  
… communications…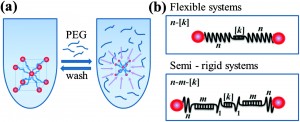 … and a number of previous Hot Papers!
Frustrated crystallisation and melting in two-dimensional pentagonal confinement
Thomas O. E. Skinner, Henry M. Martin, Dirk G. A. L. Aarts and Roel P. A. Dullens
Semi-flexible polymer chains in quasi-one-dimensional confinement: a Monte Carlo study on the square lattice
Hsiao-Ping Hsu and Kurt Binder
Self-organization of the bacterial cell-division protein FtsZ in confined environments
Sonia Mellouli, Begoña Monterroso, Hanumantha Rao Vutukuri, Esra te Brinke, Venkatachalam Chokkalingam, Germán Rivas and Wilhelm T. S. Huck
Oligo(aniline) nanofilms: from molecular architecture to microstructure
Thomas G. Dane, Philip T. Cresswell, Georgia A. Pilkington, Samuele Lilliu, John E. Macdonald, Stuart W. Prescott, Oier Bikondoa, Charl F. J. Faul and Wuge H. Briscoe
Find the full collection here.
Follow the latest journal news on Twitter @softmatter or go to our Facebook page.
To keep up-to-date with all the latest research, sign-up to our RSS feed or Table of contents alert.