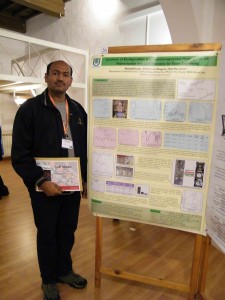 Congratulations to Sharad Pasale for winning a Soft Matter poster prize at the recent 3rd International Congress on Biohydrogels.
Sharad Pasale's winning poster was titled:
Synthesis of biodegradable and thermoresponsive hydrogel via RAFT polymerization and click chemistry for tissue engineering.
To keep up-to-date with all the latest research, sign up for the Soft Matter e-Alert or RSS feeds or follow Soft Matter on Twitter or Facebook.