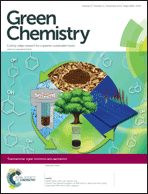 Green Chemistry is pleased to announce the publication of the Lignin Chemistry and Valorisation themed issue. The Guest Editors for this issue are Professor Bert Weckhuysen (Utrecht University, Netherlands), Dr Pieter Bruijnincx (Utrecht University, Netherlands) and Dr Roberto Rinaldi (Imperial College London, UK).
Recently, the scientific community has made significant progress in engineering lignin, characterising its structural features, valorising the biopolymer through catalysis, and finding new outlets for the lignin-derived products. The aim of this themed issue is to show the latest developments in the field of lignin chemistry and valorisation.
Below are some high quality Open Access articles in the collection. You can view the full collection here.
Efficient catalytic hydrotreatment of Kraft lignin to alkylphenolics using supported NiW and NiMo catalysts in supercritical methanol
Anand Narani, Ramesh Kumar Chowdari, Catia Cannilla, Giuseppe Bonura, Francesco Frusteri, Hero Jan Heeres and Katalin Barta
Green Chem., 2015, 17, 5046-5057. DOI: 10.1039/C5GC01643F
---
The synthesis and analysis of advanced lignin model polymers
C. S. Lancefield and N. J. Westwood
Green Chem.
, 2015, 
17
, 4980-4990. DOI: 10.1039/C5GC01334H
---
Ethanol as capping agent and formaldehyde scavenger for efficient depolymerization of lignin to aromatics
Xiaoming Huang, Tamás I. Korányi, Michael D. Boot and Emiel J. M. Hensen
Green Chem.
, 2015, 
17
, 4941-4950. DOI: 10.1039/C5GC01120E
---