The first PACN Green Chemistry Congress took place in Addis Ababa, Ethiopia, on the 15th –17th November 2010. The international event was organised by the RSC Pan Africa Chemistry Network (www.rsc.org/pacn) with support from Green Chemistry. The congress received fantastic media coverage in countries across the African continent and the rest of the world.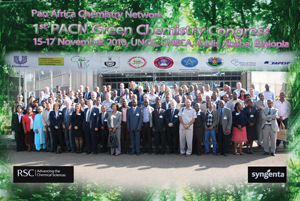 The Green Chemistry Congress was opened by the Ethiopian Minister for Water and Energy, H.E. Ato Alemaghu Tegenu. During the event, Tegenu wrote an opinion piece that highlighted the need for science and innovation to improve African people's lives sustainably, and the important role of the RSC and the Pan Africa Chemistry Network in supporting these scientific developments. This piece was published both in print and online in 13 different newspapers across Africa. To read the piece online, click here.
Green Chemistry Advisory Board member, Yonas Chebude, chaired the local organizing committee. In addition to a number of distinguished scientists from all around the world, both the Chair of the Editorial Board, Martyn Poliakoff, and the Scientific Editor, Walter Leitner, spoke at the Congress, as well as Editorial Board members Buxing Han, Paul Anastas and Tom Welton. The Congress was very well attended with delegates from 22 countries.
One of the main outcomes of the Congress is the writing of a report which will include recommendations. Once the report is finalised we will announce it on the Green Chemistry website.