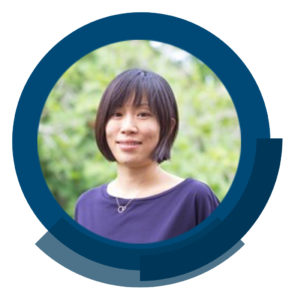 We are delighted to welcome Professor Judy I-Chia Wu to the Organic & Biomolecular Chemistry Editorial Board!
Judy earned a BS (2004) in Chemistry from Tunghai University, Taiwan, and a PhD (2011) working with Professor Paul Schleyer, at the University of Georgia. In 2015, she began her independent career at the University of Houston, Department of Chemistry. She has received an IUPAC Young Chemist Award, an NSF CAREER Award, and an NIH MIRA award. She was selected as a Sloan Research Fellow in 2020.
Her current research interests span topics in ground and excited-state aromaticity and antiaromaticity, photochemistry, supramolecular chemistry, and enzyme catalysis.
She enjoys long walks with her dog, and writing from a cozy corner.
---
See some of Judy's recent research highlights in this Chemistry World article:
Or find out more by browsing a few of her recent publications:
On the reciprocal relationship between σ-hole bonding and (anti)aromaticity gain in ketocyclopolyenes
Hari Ram Paudel, Lucas José Karas and Judy I-Chia Wu
Org. Biomol. Chem., 2020,18, 5125-5129
Antiaromaticity gain increases the potential for n-type charge transport in hydrogen-bonded π-conjugated cores
Zhili Wen and Judy I-Chia Wu
Chem. Commun., 2020,56, 2008-2011
How does excited-state antiaromaticity affect the acidity strengths of photoacids?
Zhili Wen, Lucas José Karas, Chia-Hua Wu and Judy I-Chia Wu
Chem. Commun., 2020,56, 8380-8383
Why do A·T and G·C self-sort? Hückel aromaticity as a driving force for electronic complementarity in base pairing
Yu Zhang, Chia-Hua Wu and Judy I-Chia Wu
Org. Biomol. Chem., 2019,17, 1881-1885
Superalkali ligands as a building block for aromatic trinuclear Cu(I)–NHC complexes
Rakesh Parida, Subhra Das, Lucas José Karas, Judy I-Chia Wu, Gourisankar Roymahapatra and Santanab Giri
Inorg. Chem. Front., 2019,6, 3336-3344
Mixed-carbene cyclometalated iridium complexes with saturated blue luminescence
Hanah Na, Louise M. Cañada, Zhili Wen, Judy I-Chia Wu and Thomas S. Teets
Chem. Sci., 2019,10, 6254-6260
Azo-triazolide bis-cyclometalated Ir(III) complexes via cyclization of 3-cyanodiarylformazanate ligands
Ge Mu, Zhili Wen, Judy I-Chia Wu and Thomas S. Teets
Dalton Trans., 2020,49, 3775-3785