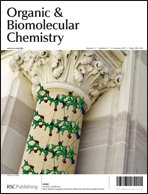 On the front cover (right) of this week's issue is a paper on cylindrical peptide assemblies from Andrew D. Abell and colleagues from The University of Adelaide. Abell et al. present a new template-based approach to peptide based nanotubes using a 'smart' scaffold designed to be constrained into a β-strand geometry.
New cylindrical peptide assemblies defined by extended parallel β-sheets
Ashok D. Pehere, ChRistopher J. Sumby and Andrew D. Abell
DOI: 10.1039/C2OB26637G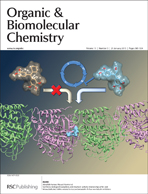 Featuring on the inside cover (left) is a paper from Mouad Alami, Abdallah Hamze and co-workers reporting the synthesis and antiproliferative activity of tri- and tetrasubstituted 1,1-diarylolefins related to isocombretastatin A-4.
Synthesis, biological evaluation, and structure–activity relationships of tri- and tetrasubstituted olefins related to isocombretastatin A-4 as new tubulin inhibitors
Abdallah Hamze and Mouad Alami et al.
DOI: 10.1039/C2OB26253C
Both cover articles are free to access for 6 weeks.