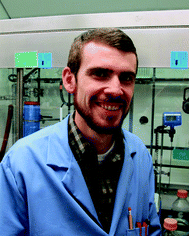 Introducing Dr Brett N. Hemric:

I grew up in a small town in Oklahoma, where my father was a science professor. Because of this, I was playing with model kits and exploring the lab at an early age. After attending Liberty University and achieving a B.S. in Biochemistry and Molecular Biology in 2013, I attended Duke University and worked with Dr. Qiu Wang, earning a Ph.D. in Organic Chemistry in 2018. I am currently a Postdoctoral Research Associate with Prof. Scott Denmark at the University of Illinois at Urbana-Champaign and I aspire to move into an assistant professor position in the future.
What inspired you to write this Review article?
I have always enjoyed alkene reactions ever since learning about them in undergraduate organic chemistry. There is something fascinating about the inherent "built-in" reactivity of carbon-carbon pi bonds toward electrophiles. In writing this review, I wanted to provide a comprehensive resource for all of the current work on amino oxygenation of alkenes, alkynes, and allenes, since this area has seen a renaissance in recent years after the seminal Sharpless amino hydroxylation work that begun in the 1970s.
What primary research are you carrying out in the area?
My doctoral work focused on alkene amino oxygenation using electrophilic nitrogen species and copper catalysis. We were able to produce a number of methods, both intramolecular and intermolecular, for the amino oxygenation of alkenes and 1,3-dienes. I am currently working in the laboratory of Dr. Scott Denmark and am also working on alkene difunctionalization, so be on the lookout for that soon!
What are your thoughts on the future of this research field?
Although there are a large number of methods in the alkene amino oxygenation literature, future methods will need to accomplish high levels of enantioselectivity on a broad range of substrates, in addition to the diastereo- and regioselectivity already present in many methods. Within the arena of alkyne and allene amino oxygenation, there are significantly fewer intentional research programs toward their functionalization and much more unexplored space for ambitious scientists to devote their efforts towards.
Read the full article: Beyond osmium: progress in 1,2-aminooxygenation of alkenes, 1,3-dienes, alkynes,and allenes
See the other articles showcased in this month's Editor's Collection
See all the full articles on our publishing platform