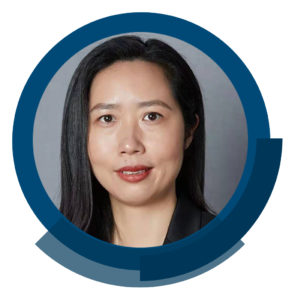 New OBC Associate Editor Xiaohua Liu
Organic & Biomolecular Chemistry is delighted to welcome Professor Xiaohua Liu as an Associate Editor from 1st of August 2020.
Xiaohua Liu obtained her BSc degree from Hubei Normal University (2000), and obtained her MS (2003) and PhD (2006) from Sichuan University. She joined the faculty of Prof. Feng's group in 2006, and was appointed as an associate professor. In 2010, she was promoted as a full professor. Her current research interests include asymmetric catalysis and chiral drug synthesis.
To find out more about Xiaohua Liu and her achievements, you can visit the webpage or browse some of her publications below.
---
Xiaohua's publications with Organic & Biomolecular Chemistry:
Catalytic asymmetric [3 + 3] annulation of cyclopropanes with mercaptoacetaldehyde
Org. Biomol. Chem., 2016, 14, 5914-5917
Chiral biphenylamide derivative: an efficient organocatalyst for the enantioselective synthesis of α-hydroxy phosphonates
Org. Biomol. Chem., 2009, 7, 4355-4357
Reversal of enantioselectivity in chiral metal complex-catalyzed asymmetric reactions
Org. Biomol. Chem., 2019, 17, 6538-6550
The assignment of the configuration for α-hydroxy acid esters using a CEC strategy
Org. Biomol. Chem., 2016, 14, 5258-5262
Organocatalyzed highly stereoselective Michael addition of ketones to alkylidene malonates and nitroolefins using chiral primary-secondary diaminecatalysts based on bispidine
Org. Biomol. Chem., 2009, 7, 4120-4127
Highly enantioselective synthesis of γ-substituted butenolidesvia the vinylogous Mukaiyama–Michael reaction catalyzed by a chiral scandium(iii)–N,N′-dioxide complex
Org. Biomol. Chem., 2011, 9, 5748-5754