Congratulations to Hanna Jędrzejewska from the Polish Academy of Sciences in Warsaw for winning the Organic & Biomolecular Chemistry poster prize awarded at the 9th International Symposium on Macrocyclic and Supramolecular Chemistry (ISMSC-9) held at SIOC, Shanghai, on 7-11 June 2014.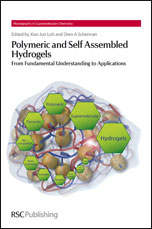 The title of her winning poster was: Chiral self-sorting of hybrid peptidic capsules
Hanna wins a copy of the book Polymeric and Self Assembled Hydrogels : From Fundamental Understanding to Applications, signed by its author, and winner of the 2014 Cram Lehn Pedersen Prize Prof. Oren Scherman.
On her winning work, Hanna comments:
This project aims at the synthesis of bio-compatible peptidic capsules by means of self-organization of short peptides. Such capsules can be further used for encapsulation, storage and transport of biologically relevant targets. Even though peptides are endowed with natural self-assembling properties, capsules made of short "native" peptides do not form spontaneously due to high conformational lability and tendency to form non-porous random aggregates. I have found that this disadvantage can be overcome by properly designed scaffolds that "guide" peptides into capsular structures. I have used short peptides of various chirality attached in a dynamical covalent way to the macrocyclic skeleton. This way I have obtained building blocks that spontaneously self-sort into porous peptidic capsules resembling closed β-barrels.

I've been working on this topic for 1 year. This research is fully supported by the PARENT/BRIDGE programme that enables the best researchers who are raising young children to return to advanced research work. The programme is financed by Foundation for Polish Science within European Regional Development Fund under the Innovative Economy Operational Programme 2007-2013.
Hanna works as a PhD student in the group of Prof. Agnieszka Szumna.
Congratulations again to Hanna – the OBC team whishes her all the very best with her research work!