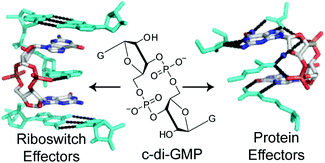 One of the essential capabilities of bacteria for their continued survival is the ability to adapt and change to reflect the changing environment in which they reside. One way in which they achieve this is through the second messenger signalling molecule bis-(3′–5′)-cyclic dimeric guanosine monophosphate (c-di-GMP), which facilitates behaviour adaptions.
c-di-GMP is found throughout the bacterial domain and plays a vital role in regulating the transition between the motile planktonic lifestyle and the sessile biofilm forming state. It also controls the virulence response of pathogenic organisms and is thought to be connected to quorum sensing, the process by which bacteria communicate with each other.
This HOT review from Scott A. Strobel and Carly A. Shanahan, Yale University, summarises the current state of knowledge and understanding of c-di-GMP signalling in bacteria with a focus on protein and RNA binding partners of the second messenger. Efforts towards the synthesis of c-di-GMP and its analogues are discussed as well as studies aimed at targeting these binding partners with synthetic dinucleotide analogues.
To find out more about this messenger molecule read this review taken from our Nucleic acids: new life, new materials collection.
Enjoy free access for 4 weeks, so download it today.
The bacterial second messenger c-di-GMP: probing interactions with protein and RNA binding partners using cyclic dinucleotide analogs
Carly A. Shanahan and Scott A. Strobel
DOI: 10.1039/C2OB26724A