Our latest web collection focussing on Vanadium Science: Chemistry, Catalysis, Materials, Biological and Medicinal Studies, guest edited by Professors Debbie Crans, Dinorah Gambino and Susana Etcheverry, contains a selection of articles from leading researchers working in the area of vanadium chemistry, including participants at the 11th International Vanadium Symposium. You can read the accompanying Editorial online to find out more.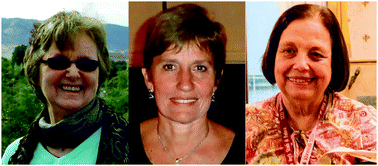 Browse a selection of the articles included below:
Synthesis, Characterization and In-Vitro Anti-Cancer Activity of Vanadium-Doped Nanocrystalline Hydroxyapatite
Daina Kalnina, Aviva Levina, Alexander Pei, Karlis Agris Gross and Peter A Lay
New J. Chem., 2019, 43, 17891-17901
DOI: 10.1039/C9NJ03406D, Paper
Vanadyl acetylacetonate attenuates Aβ pathogenesis in APP/PS1 transgenic mice depending on the intervention stage
Chang Tan, Yaqiong Dong, Jing Wang and Xiaoda Yang
New J. Chem., 2019, 43, 17588-17594
DOI: 10.1039/C9NJ00820A, Paper
Interactions of rutin with the oxidovanadium(iv) cation. Anticancer improvement effects of glycosylated flavonoids
Helen Goitia, Patricia Quispe, Luciana G. Naso, Valeria R. Martínez, Marilin Rey, Alberto C. Rizzi, Evelina G. Ferrer and Patricia A. M. Williams
New J. Chem., 2019, 43, 17636-17646
DOI: 10.1039/C9NJ01039D, Paper
Polyoxovanadate inhibition of Escherichia coli growth shows a reverse correlation with Ca2+-ATPase inhibition
Dorinda Marques-da-Silva, Gil Fraqueza, Ricardo Lagoa, Anjana Anandan Vannathan, Sib Sankar Mal and Manuel Aureliano
New J. Chem., 2019, 43, 17577-17587
DOI: 10.1039/C9NJ01208G, Paper
New thiosemicarbazide and dithiocarbazate based oxidovanadium(iv) and dioxidovanadium(v) complexes. Reactivity and catalytic potential
Mannar R. Maurya, Bithika Sarkar, Amit Kumar, Nádia Ribeiro, Aistè Miliute and João Costa Pessoa
New J. Chem., 2019, 43, 17620-17635
DOI: 10.1039/C9NJ01486A, Paper
A one-dimensional supramolecular chain based on [H2V10O28]4− units decorated with 4-dimethylaminopyridinium ions: an experimental and theoretical characterization
Eduardo Sánchez-Lara, Beatriz Martínez-Valencia, Nidia D. Corona-Motolinia, Brenda L. Sanchez-Gaytan, María Eugenia Castro, Sylvain Bernès, Miguel A. Méndez-Rojas, Francisco J. Meléndez-Bustamante and Enrique González-Vergara
New J. Chem., 2019, 43, 17746-17755
DOI: 10.1039/C9NJ02097G, Paper

Submit your research or reviews to NJC today, we will be delighted to receive them! – see our author guidelines for information on our article types or find out more about the advantages of publishing in a Royal Society of Chemistry journal.