The chemistry of selenium and tellurium is experiencing continuous and exponential growth thanks to its implication in many research fields spanning from fundamental organic/inorganic/bio-chemistry, to material science, biology, pharmacology, medicine, agriculture and environmental science.
The International Conference on the Chemistry of Selenium and Tellurium (ICCST), next year at its 14th edition, has witnessed and supported the growth of this research area since 1971, offering an International forum for discussing cutting-edge results. Interest in the chemistry of these two elements has been sustained by the RSC publishing several reviews and monographs over the past decade.
Our thematic web collection on all facets of the chemistry of selenium and tellurium will give an open updated snapshot of the research on these two elements as multidisciplinary science, offering unique opportunities of interactions of researchers working in different areas, and it will celebrate ICCST as recognized platform of discussion.
The collection, Guest Edited by Vito Lippolis and Claudio Santi, will contain papers published in the past 20 years by chemists who have attended ICCST, and new papers published in NJC by the end of 2019.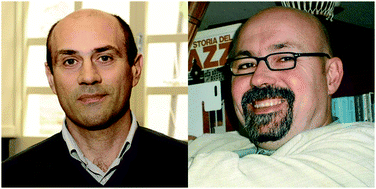 Browse a few of the latest Perspective articles included:
Ring opening reactions of heterocycles with selenium and tellurium nucleophiles
Damiano Tanini and Antonella Capperucci
New J. Chem., 2019, 43, 11451-11468
DOI: 10.1039/C9NJ02320H, Perspective
Pyridyl and pyrimidyl chalcogenolates of coinage metals and their utility as molecular precursors for the preparation of metal chalcogenides
Vimal K. Jain
New J. Chem., 2019, 43, 11034-11040
DOI: 10.1039/C9NJ02769F, Perspective
1,4-Anhydro-4-seleno-D-talitol (SeTal): a remarkable selenium-containing therapeutic molecule
Michael J. Davies and Carl H. Schiesser
New J. Chem., 2019, 43, 9759-9765
DOI: 10.1039/C9NJ02185J, Perspective
Organoselenium small molecules as catalysts for the oxidative functionalization of organic molecules
Vandana Rathore, Cavya Jose and Sangit Kumar
New J. Chem., 2019, 43, 8852-8864
DOI: 10.1039/C9NJ00964G, Perspective

Submit your work to NJC – Check our website for handy tips and guidelines or find out more about the benefits of publishing with the Royal Society of Chemistry.