Dr Sudeshna Chandra (NMIMS University, India) designed this month's outside cover. It illustrates an article in which the authors propose a novel electrochemical immunosensor, based on a redox-active ferrocenyl dendrimer on a glassy carbon electrode, for the detection of cancer biomarkers.
Fabrication of a label-free electrochemical immunosensor using a redox active ferrocenyl dendrimer
Sudeshna Chandra, Christian Gäbler, Christian Schliebe, Heinrich Lang and Dhirendra Bahadur,  New J. Chem., 2016, 40, 9046-9053. DOI: 10.1039/C6NJ00830E.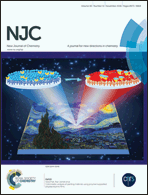 The inside cover is proposed by Dr Raz Jelinek (Ben Gurion University of the Negev, Israel). According to Dr Jelinek and his co-workers, the analysis of artworks and identification of their molecular components is very important to choose proper conservation strategies and monitor their restoration. In their study the authors present an application of spin-coated polydiacetylene films for in situ colorimetric sensing of a selection of organic materials present in paintings. Their study shows that the polydiacetylene technology might open new analytical avenues in molecular analysis, in general, and more specifically for painting restoration and conversation science.
Colorimetric analysis of painting materials using polymer-supported polydiacetylene films
Alexander Trachtenberg, Orit Malka, Kaviya Parambath Kootery, Stella Beglaryan, Danilo Malferrari, Paola Galletti, Silvia Prati, Rocco Mazzeo, Emilio Tagliavini and  Raz Jelinek, New J. Chem., 2016, 40, 9054-9059. DOI: 10.1039/C6NJ02092E.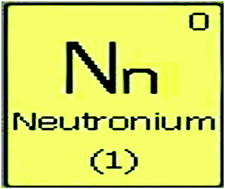 Also read the short Focus review by Dr Martín Labarca (Universidad de Buenos Aires, Argentina). Dr Labarca addresses the problem of the status of the element of atomic number zero or "neutronium". According to him, it is more cautious from both a scientific and a philosophical standpoint, to think of the neutron just as a structural component of an element.
An element of atomic number zero?
Martín Labarca, New J. Chem., 2016, 40, 9002-9006. DOI: 10.1039/C6NJ02076C.
Browse the full table of contents of the November issue to discover the other studies conducted by our authors here.