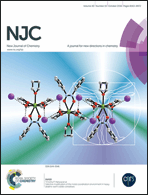 The October outside cover is proposed by Prof. Timothy P. Hanusa (Vanderbilt University, USA). In this article, the authors report a series of heavy alkaline-earth iodide coordination compounds containing various neutral donor ligands: phosphine oxides, ureas and the nitrobenzene dimer. These donors were chosen for their range of basicity and steric demand, to determine how well they could compete with the iodide ligand. The observed reactivity patterns suggest that ureas deserve more widespread use in group 2 chemistry, as they have a basicity that exceeds that of phosphine oxides, are available with a variety of substituents, and are inexpensive.
Selective modification of the metal coordination environment in heavy alkaline-earth iodide complexes
Lacey S. Fitts, Eric J. Bierschenk, Timothy P. Hanusa,* Arnold L. Rheingold, Maren Pink and Victor G. Young, Jr. New J. Chem., 2016, 40, 8229-8238. DOI: 10.1039/C6NJ01713D.
Do not hesitate to browse the entire table of contents of the October issue to discover the 9 Letters and 86 Articles. Click here!