by Cynthia Challencin, Publishing Assistant
The March issue outside front cover was designed by Jonathan Steed (Durham University), former NJC Associate Editor, and Jonathan Foster (University of Cambridge). The two authors and co-workers wrote a paper dealing with supramolecular gelators with different fibre morphologies used as templates to form mesoporous covalent polymers with different pore shapes. These materials have found use in applications such as filtration, storage, catalysis, cell growth, drug delivery and as rewritable materials.
Using gel morphology to control pore shape by Jonathan A. Foster, David W. Johnson, Mark-Oliver M. Pipenbrock and Jonathan W. Steed, New J. Chem., 2014, 38, 927-932. DOI: 10.1039/C3NJ01295F.
In their article, Seiya Kobatake, who designed the inside front cover, and his colleagues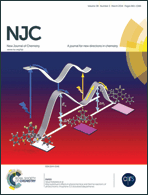 report on photochemical and thermal reaction behavior of thiophene-S,S-dioxidized diarylethenes having various alkyl groups at the reactive positions. Their results provide the new strategy for molecular design to make the molecules showing light-starting irreversible thermosensors.
Alkyl substituent effects in photochemical and thermal reactions of photochromic thiophene-S,S-dioxidized diarylethenes by Hiroaki Shoji, Daichi Kitagawa and Seiya Kobatake, New J. Chem., 2014, 38, 933-941. DOI: 10.1039/C3NJ01246H.
Do not hesitate to read the whole issue available online at: NJC 2014, issue 3