We are pleased to introduce you to our latest issue. Whether you are a theoretical, material, synthetic or biological chemist, you are guaranteed to find articles of relevance to your specialist interests!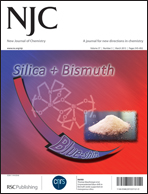 The outside front cover highlights a paper by Thomas Maschmeyer and co-workers (University of Sydney, Australia), reporting atomically dispersed as well as highly uniform nanoparticules from bismuth oxide impregnated silicas. Due to quantum confinement, these mesostructured materials displayed unprecedented blue shifts as compared to bulk Bi2O3, and could find practical applications such as energy conversion or photocatalysis.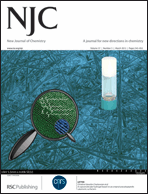 The inside front cover was produced by Christine Gérardin-Charbonnier and co-workers (Université de Lorraine, Vandoeuvre-Les-Nancy, France). In this paper, the authors describe a supramolecular hydrogel resulting from the mixture of a cationic pseudopeptide and lauric acid. The subsequent thermo-responsive aggregate displays a lamellar structure and could be a promising candidate for original biocompatible formulations in cosmetics or pharmaceuticals.
You can access and read the whole of issue 3 here.
Stay tuned to NJC! Sign up for the free E-Alert to get the table of contents in your mailbox each month.