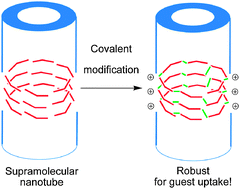 Industrial printing and fabric-dying processes generate vast amounts of wastewater. The removal of these industrial dyes, many of which are harmful to both aquatic and human health, is mandatory.
In this NJC paper, Jianyong Zhang, Cheng-Yong Su and co-workers (Sun Yat-Sen University, Guangzhou, China) report a method for generating robust and mechanically stable nanotubes by modification of a supramolecular gel via a covalent capture reaction.
The surface of the resulting structure is cationic, allowing for the effective and selective adsorption of anionic dyes over cationic or neutral species. The authors also report that the materials can be reused for dye capture without losses in their capture ability.
 To find out more, read the full article, which is free to access for of 4 weeks:
Surface modification of supramolecular nanotubes and selective guest capture
Minjuan Lin, Haoliang Liu, Philip W. Miller, Jianyong Zhang and Cheng-Yong Su
New J. Chem., 2014, DOI: 10.1039/C4NJ00445K