In this NJC article, Cyrille Monnereau and his colleagues (University of Lyon, France) report an Atom Transfer Radical Polymerisation (ATRP) approach towards star-shaped chromophores, which bear hydrophilic oligomeric arms that form an "insulating shell" around the nano-sized molecules, resulting in their solubility in water with good conservation of their fluorescence quantum yield. These new amphiphilic chromophores are promising candidates for cellular fluorescence and photodynamic therapy. The authors claim that this synthetic strategy for photoactive species is straightforward and adaptable.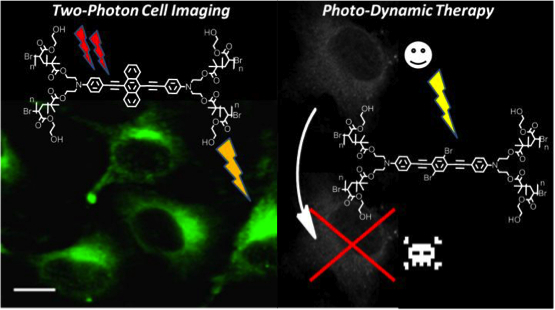 "Water-soluble chromophores with star-shaped oligomeric arms: synthesis, spectroscopic studies and first results in bio-imaging and cell death induction"
Cyrille Monnereau, Sophie Marotte, Pierre-Henri Lanoë, Olivier Maury, Patrice Baldeck, David Kreher, Arnaud Favier, Marie-Therese Charreyre, Jacqueline Marvel, Yann Leverrier and Chantal Andraud, 
New J. Chem.
,
2012
, Accepted Manuscript, DOI: 10.1039/C2NJ40407A.
Interested to know more? Why not read the
full article
now and let us know your thoughts and comments below!
This Hot Article will be free to access for a period of 4 weeks.