Nanoscale Horizons publishes exceptionally high quality, innovative nanoscience from top researchers in the field. From this year onwards, we would like to take the opportunity to recognize some of the outstanding work published in the journal, as well as the authors behind those articles, by annually awarding an Outstanding Paper prize.
We would like to introduce you to the winners of the 2018 Outstanding Paper awards and hope that you enjoy reading their outstanding articles as much as we did. Read the collection here and meet the authors of the Nanoscale Horizons winning paper and runner-up in this Editorial article.
Please join us in congratulating our winners.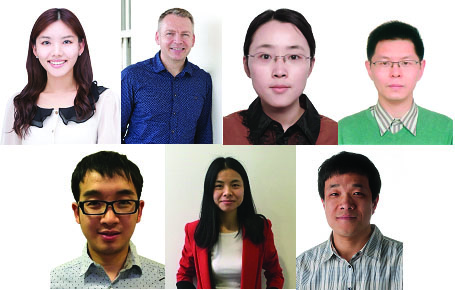 Selection Criteria
In order to choose the most outstanding papers of 2018, we put together a shortlist of articles published during the year based on the science presented and the article metrics including average article downloads and citations, and Altmetrics. The shortlist was reviewed by the journal's Editorial and Advisory Board members. Based on this, and on the high quality of content we published throughout the year, we have chosen to award not only our most Outstanding Paper, but also a runner-up and an Outstanding Review in 2018.
Nanoscale Horizons Outstanding Paper 2018:
None of us is the same as all of us: resolving the heterogeneity of extracellular vesicles using single-vesicle, nanoscale characterization with resonance enhanced atomic force microscope infrared spectroscopy (AFM-IR)
Sally Yunsun Kim, Dipesh Khanal, Priyanka Tharkar, Bill Kalionis and Wojciech Chrzanowski*
DOI: 10.1039/C8NH00048D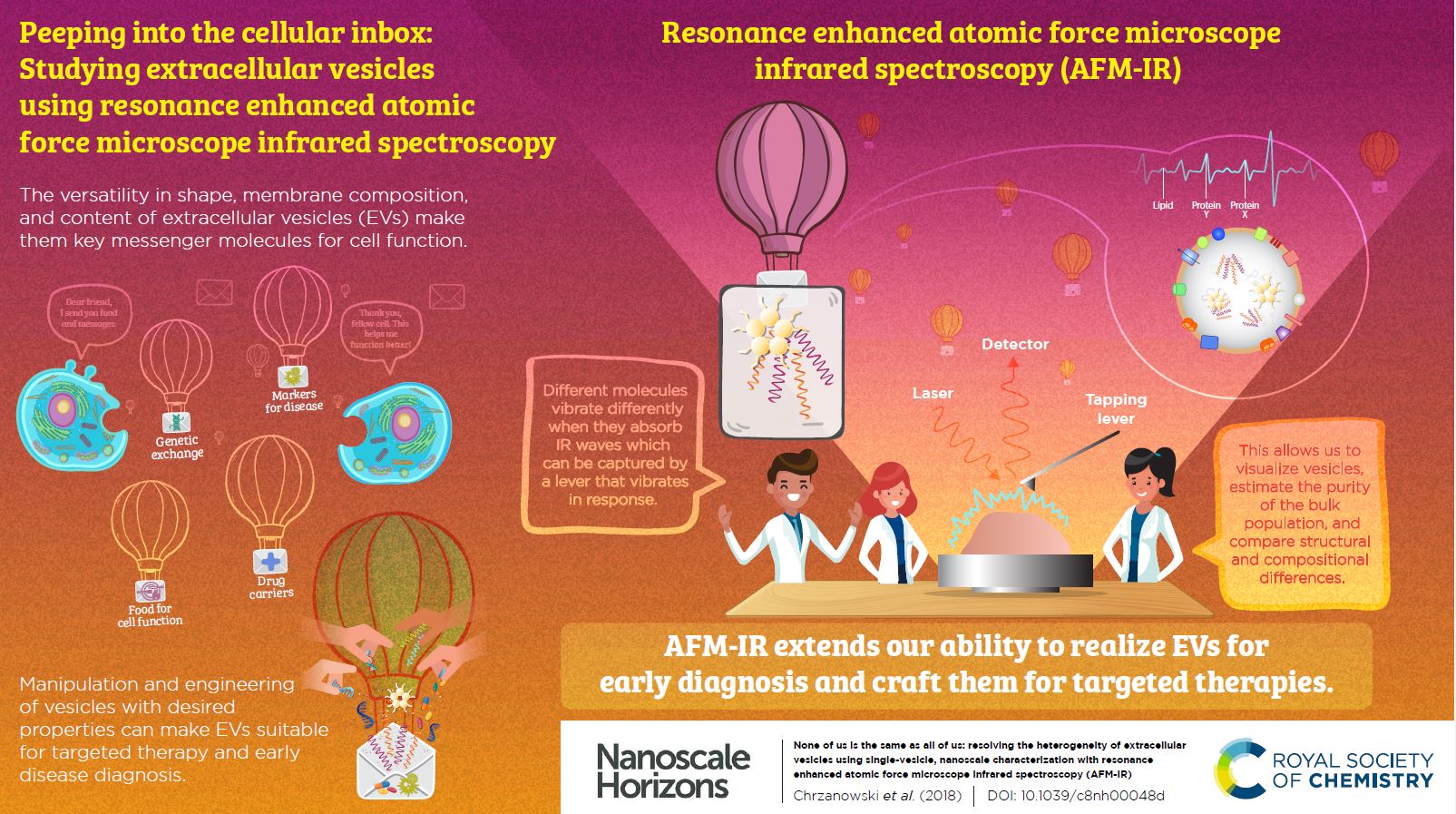 In this paper, the authors propose an innovative approach using resonance enhanced atomic force microscope infrared spectroscopy to identify the nanoscale structural composition of extracellular vesicles (EVs). The particular strength of this methodology is that it is a label-free and ultra-high sensitivity technique that has the power to measure individual EV heterogeneity. New insights gained by this method into EV heterogeneity will have a profound impact not only on basic understanding of EV biology but also on disease diagnostics and the emerging area of EV-therapies.
Nanoscale Horizons Outstanding Paper runner-up 2018:
A location- and sharpness-specific tactile electronic skin based on staircase-like nanowire patches
Shu Gong, Yan Wang, Lim Wei Yap, Yunzhi Ling, Yunmeng Zhao, Dashen Dong, Qianqian Shi, Yiyi Liu, Hemayet Uddin and Wenlong Cheng*
DOI: 10.1039/C8NH00125A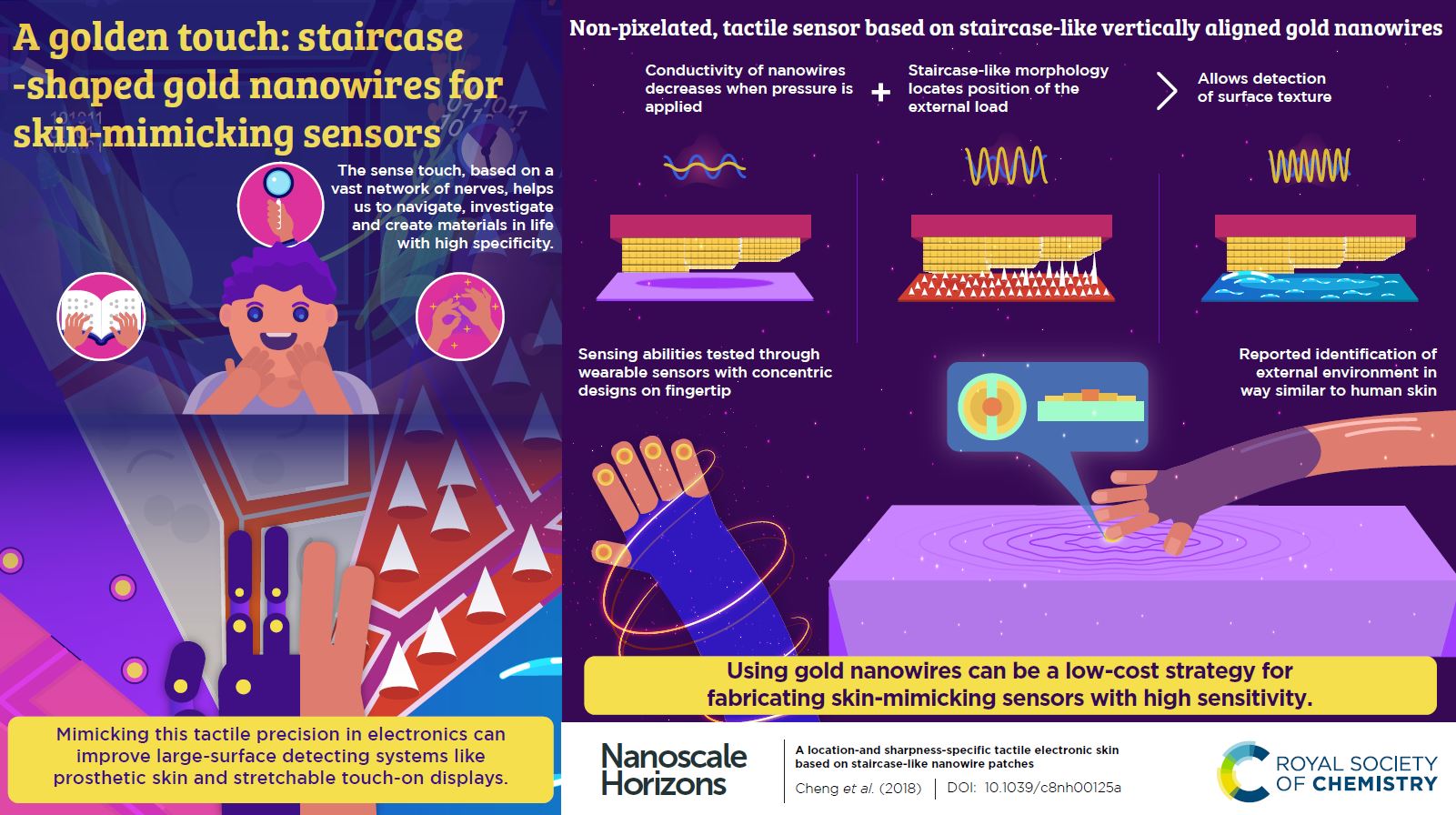 The article reports on a tactile electronic skin sensor based on staircase-like vertically aligned gold nanowires. With a back-to-back linear or spiral assembly of two staircase structures into a single sensor, the authors were able to recognize pressure in a highly location-specific manner for both non-stretched and stretched states opening up a new route to highly specific second-skin-like tactile sensors for wearable sensing applications.
Nanoscale Horizons Outstanding Review 2018:
Multifunctional nanozymes: enzyme-like catalytic activity combined with magnetism and surface plasmon resonance
Jiangjiexing Wu, Sirong Li and Hui Wei*
DOI: 10.1039/C8NH00070K
The review highlights the progress in the field of nanozymes based on two representative types of multifunctional nanozyme – iron oxide nanomaterials with magnetic properties and metal nanomaterials with surface plasmon resonance – including current and future applications as well as challenges.
Last but not least, we would like to take this opportunity to thank all of the authors who have trusted us with publishing their work in Nanoscale Horizons over the last years.
Professor Harold Craighead, Editorial Board Chair
Dr Michaela Mühlberg, Managing Editor