Lunar New Year collection
A collection of our most popular articles from Asia
To celebrate the Lunar New Year, we are delighted to highlight some of the most popular articles, determined by their citations and page views, published in Nanoscale Horizons last year by corresponding authors based in countries celebrating the Lunar New Year.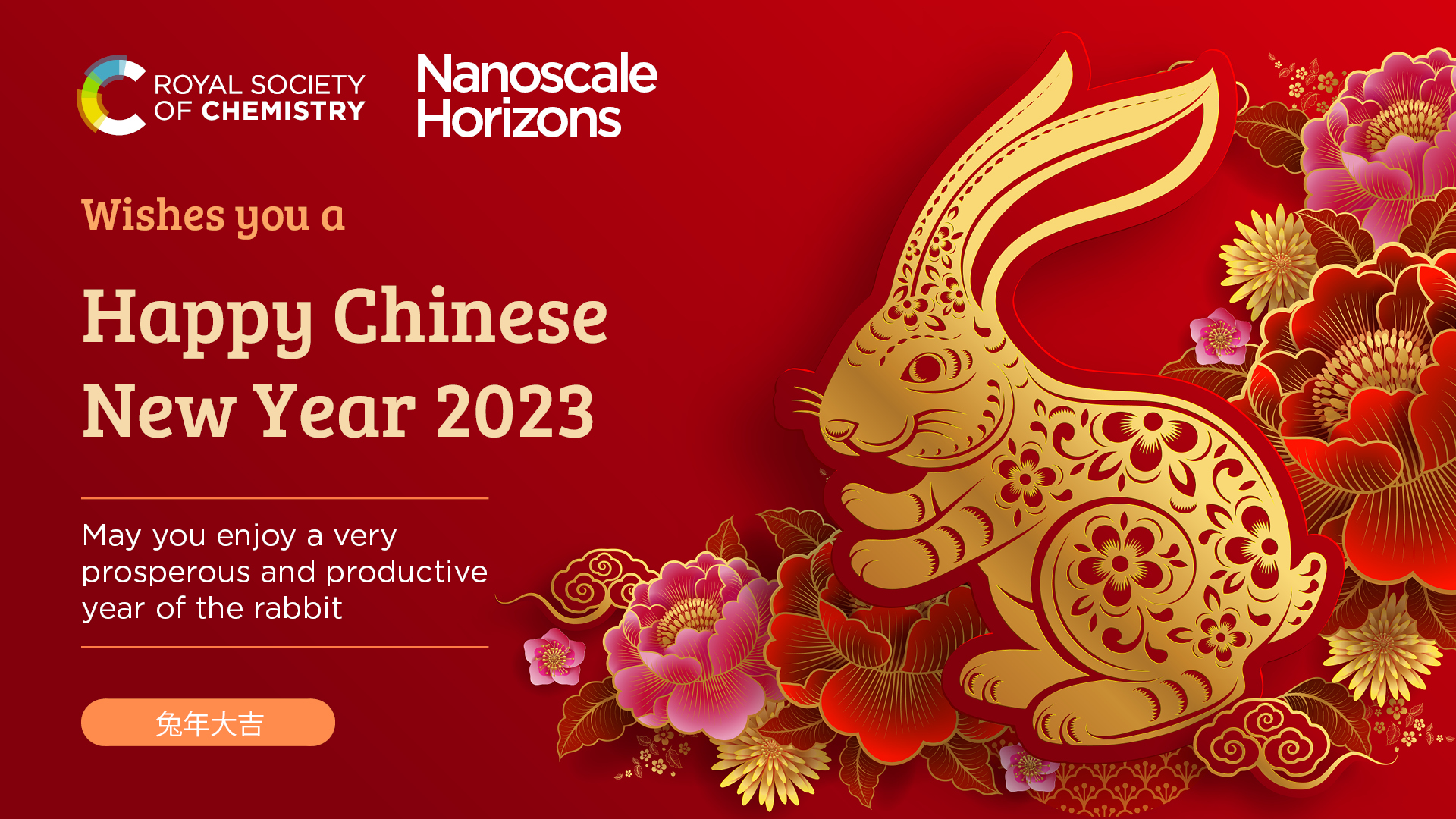 Professor Katharina Landfester (Nanoscale Horizons Editorial Board Chair) and Professor Dirk Guldi (Nanoscale and Nanoscale Advances Editor-in-Chief) have recorded messages to welcome us into the Year of the Rabbit!
All of the articles in the collection are free to access until the end of February 2023. Read some of the featured articles below.
Integrated therapy platform of exosomal system: hybrid inorganic/organic nanoparticles with exosomes for cancer treatment
Ming-Hsien Chan, Zhi-Xuan Chang, Chi-Ying F. Huang, L. James Lee, Ru-Shi Liu and Michael Hsiao
Nanoscale Horiz., 2022, DOI: 10.1039/D1NH00637A
Computational design of double transition metal MXenes with intrinsic magnetic properties
Yinggan Zhang, Zhou Cui, Baisheng Sa, Naihua Miao, Jian Zhou and Zhimei Sun
Nanoscale Horiz., 2022, DOI: 10.1039/D1NH00621E
Single atomic Fe–N4 active sites and neighboring graphitic nitrogen for efficient and stable electrochemical CO2 reduction
Leta Takele Menisa, Ping Cheng, Xueying Qiu, Yonglong Zheng, Xuewei Huang, Yan Gao and Zhiyong Tang
Nanoscale Horiz., 2022, DOI: 10.1039/D2NH00143H
Nanoscale biophysical properties of small extracellular vesicles from senescent cells using atomic force microscopy, surface potential microscopy, and Raman spectroscopy
Hyo Gyeong Lee, Seokbeom Roh, Hyun Jung Kim, Seokho Kim, Yoochan Hong, Gyudo Lee and Ok Hee Jeon
Nanoscale Horiz., 2022, DOI: 10.1039/D2NH00220E
Defect-engineered room temperature negative differential resistance in monolayer MoS2 transistors
Wen-Hao Chang, Chun-I Lu, Tilo H. Yang, Shu-Ting Yang, Kristan Bryan Simbulan, Chih-Pin Lin, Shang-Hsien Hsieh, Jyun-Hong Chen, Kai-Shin Li, Chia-Hao Chen, Tuo-Hung Hou, Ting-Hua Lu and Yann-Wen Lan
Nanoscale Horiz., 2022, DOI: 10.1039/D2NH00396A
We hope you enjoy reading these popular articles and wish you a happy, healthy and prosperous year of the rabbit!