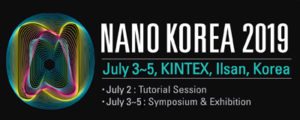 Nanoscale Horizons, Nanoscale and Nanoscale Advances are delighted to support the Nano Korea 2019 symposium which takes place from 2-5 July 2019!
Meet the Editor: Professor Dong Ha Kim, Associate Editor of Nanoscale and Nanoscale Advances, will be attending Nano Korea 2019.
At Korea's largest nanoscience and nanotechnology conference, internationally known experts, including industry leaders, will join the four day conference to discuss the most critical technological advances and innovations in the field. The first day of the meeting offers a variety of tutorial sessions followed by talks and poster presentations throughout the rest of the meeting.
Topics
​The conference programme incorporates symposia covering a broad range of subjects in Nanoscience and Nanotechnology, which creates an excellent platform to academia and industry delegates to build up national and international collaborative networks, exchange experiences and benefit from peer support.
The conference topics will include:
Nanoelectronic devices

1D & 2D Nanomaterials

Hybrid Nano Structural Materials

Nanobiotechnology

Nanotechnology for Energy & Environment

Computational Nano Science & Technology for Nanomaterials
… and many others. Find an overview here.
Key Dates
Pre-Registration due 31st May 2019
Full Paper Submission due 19th July 2019
More information available on the conference website: http://sympo.nanokorea.or.kr/2019/eng/main/