With rapid advances in nanomedicine, non-toxic, biodegradable targeted nanocarriers that can encapsulate active drugs or biological molecules and can confer controllable release of its payloads at the target sites have emerged as novel theranostic tools for more sensitive and accurate diagnostics and more effective therapies. As such, by our evolving understanding of diseases and the impact of the current nanocarriers, moving towards the development of further enhanced and smart, stimuli responsive polymers is trivial. However, it is not without challenge to design such materials in a reproductive and controlled manner. Therefore, new synthesis methods and protocols that can lead to multi-component nanocarriers of optimal size and shape that are receptive to disease pathology and biochemistry and are fully non-toxic, biodegradable and allow a targeted distribution are highly timely.
Keti Piradashvili et al. recently reported in Nanoscale Horizons an effective and yet simple preparation of such nanocarriers that are stable in blood plasma and are enzymatically degradable. For their preparation, a light-triggered and catalyst-free tetrazole–ene cycloaddition (TET-click) on the bio-degradable natural polymers, human serum albumin (HSA) was achieved.  First, TET was attached to HSA by Steglich amidation; and second; an inter-facial cross-linking reaction of the TET-HSA in a water-in-oil mini-emulsion was used to obtain the stable fluorescent aqueous nanocarriers by irradiation of the mixture with UV light at 254 nm. (Fig.1).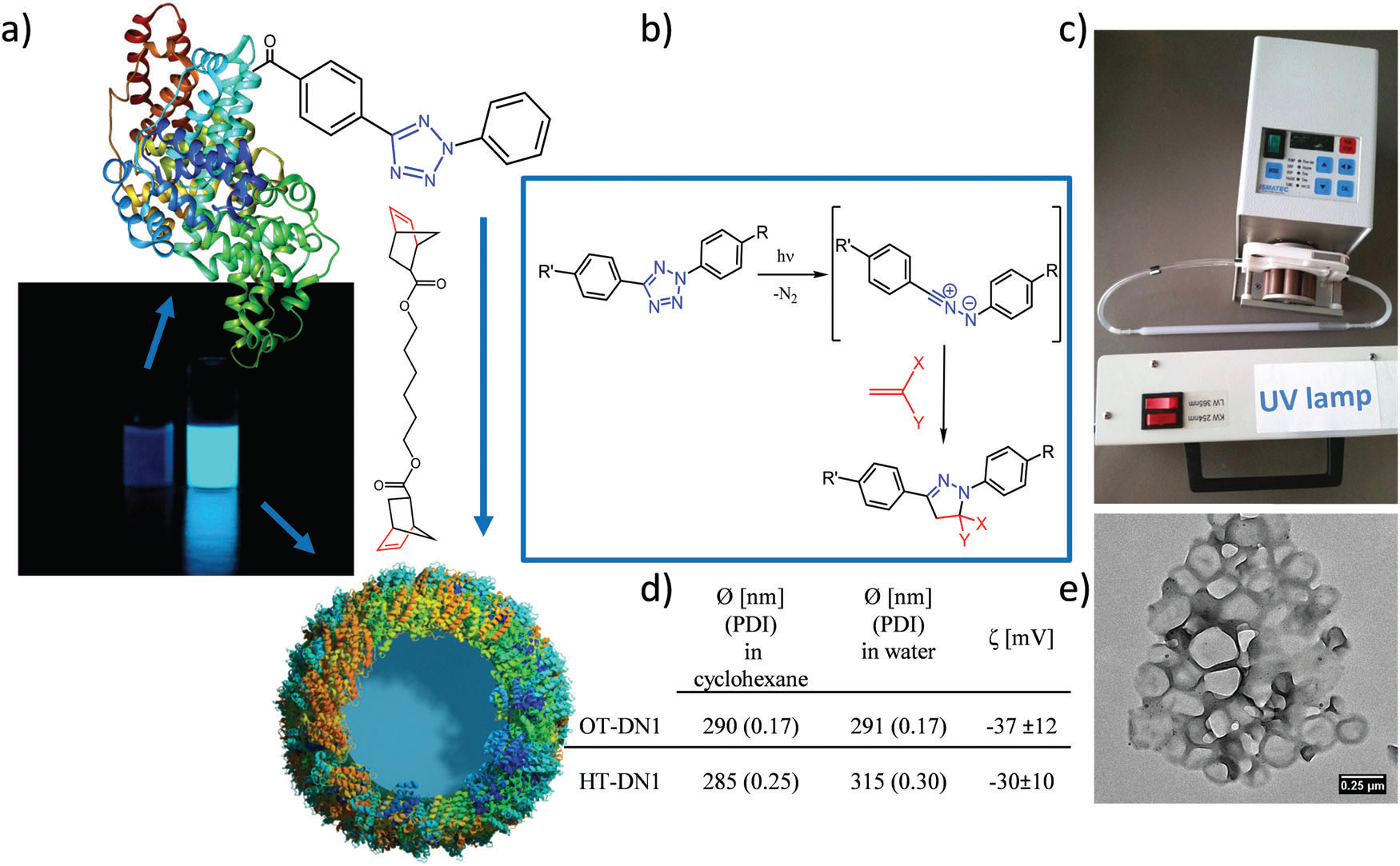 Figure 1. Preparation of protein nanocarriers. (a) Non-fluorescent protein–TET conjugates were cross-linked by dinorbornene in inverse mini-emulsion to obtain self-fluorescent protein nanocarriers; (b) reaction mechanism of the bioorthogonal UV-light induced 1,3 dipolar tetrazole–ene cycloaddition; (c) experimental setup with a peristaltic pump pumping the emulsion through a quartz cuvette with the UV-lamp placed in front; (d) average size of various protein nanocarriers; (e) TEM image of the protein nanocarriers. Image reproduced with permission of the Royal Society of Chemistry.
The synthesized nanocarriers were shown to encapsulate a high drug payload (R848) of more than 90%. Besides, the encapsulated R848 nanocarriers were highly internalized into the derived dendritic cells (BMDCs) and released in a functional manner, as well as being extremely stable. There were no signs of aggregation or degradation, even after ca. 8 months of storage, so no leakage of the R848 occurred.
This approach could be utilized as a platform to design a variety of encapsulation on a vast range of proteins. Further preclinical and clinical testing is needed for the clinical translation of such nanotherapeutics. Nevertheless, the efficient methods reported here could play a pivotal roll along the evolutionary and revolutionary path of nanotherapeutics.
Read the full article here:
Keti Piradashvili, Johanna Simon, David Paßlick, Julian R. Höhner, Volker Mailänder, Frederik R. Wurm and Katharina Landfester
Nanoscale Horiz., 2017, Advance Article. DOI: 10.1039/C7NH00062F
Dr. Orza is a member of the Community Board for Nanoscale Horizons. She is a Senior Research Scientist in the Laboratory of Nanomedicine at Emory Medical School, USA. She completed her Ph.D. on the development of therapeutic nanoparticles in the Department of Chemistry, Liverpool University, UK and Babes Bolyai University, Romania. Her research is focused on developing hybrid-engineered nanomaterials for biomedical applications, such as: tissue engineering and cancer treatment/diagnosis. Creative approaches to the design of such nanomaterials come from chemistry, biotechnology, biology/medicine, and engineering. Additionally, Dr. Orza is a Director and Chief Scientist at IndagoMed. LLC, USA, a company focused on creating performance products through the use of nanotechnology.