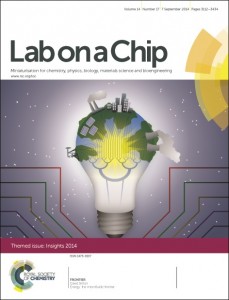 We are delighted to announce that our 2013 Impact Factor* has risen to 5.748!
Lab on  a Chip provides a unique forum for the publication of significant and original work related to miniaturisation (on or off chips) at the micro- and nano- scale across a variety of disciplines. We would like to thank all of our Board members, authors, readers and reviewers for their continued support.
Contribute to our next Impact Factor –  submit your latest piece of high impact work with us here.
Interested in other Royal Society of Chemistry journals? Click here to see how well they did.
*The Impact Factor provides an indication of the average number of citations per paper. Produced annually, Impact Factors are calculated by dividing the number of citations in a year by the number of citeable articles published in the preceding two years. Data based on 2013 Journal Citation Reports®, (Thomson Reuters, 2014).