Check out our new Lab on a Chip themed collection, focussing on Wearable and Implantable Sensors.
The collection was curated by members of the Lab on a Chip Editorial Board, and highlights some excellent recent papers in this area. The collection features papers addressing the issues involved in creating wearable or implantable sensors and their applications for diagnostics, medicine and therapeutics, health awareness and other novel applications.
We hope you enjoy reading these articles!*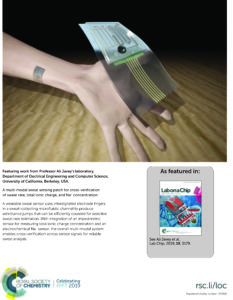 ---
Wearable sensors: modalities, challenges, and prospects
J. Heikenfeld, A. Jajack, J. Rogers, P. Gutruf, L. Tian, T. Pan, R. Li, M. Khine, J. Kim, J. Wang and J. Kim
Critical Review, Lab on a Chip Recent Review Articles, Lab on a Chip Recent Open Access Articles
Lab Chip, 2018, 18, 217-248
A fluorometric skin-interfaced microfluidic device and smartphone imaging module for in situ quantitative analysis of sweat chemistry
Yurina Sekine, Sung Bong Kim, Yi Zhang, Amay J. Bandodkar, Shuai Xu, Jungil Choi, Masahiro Irie, Tyler R. Ray, Punit Kohli, Naofumi Kozai, Tsuyoshi Sugita, Yixin Wu, KunHyuck Lee, Kyu-Tae Lee, Roozbeh Ghaffari and John A. Rogers
Paper
Lab Chip, 2018, 18, 2178-218
---
Electrostatically gated nanofluidic membrane for ultra-low power controlled drug delivery
Nicola Di Trani, Antonia Silvestri, Antons Sizovs, Yu Wang, Donald R. Erm, Danilo Demarchi, Xuewu Liua and Alessandro Grattoni
Paper
Lab Chip, 2020, 20, 1562-1576
Liquid metal electrode-enabled flexible microdroplet sensor
Renchang Zhang, Zi Ye, Meng Gao, Chang Gao, Xudong Zhang, Lei Li and Lin Gui
Paper
Lab Chip, 2020, 20, 496-504
---
A flexible enzyme-electrode sensor with cylindrical working electrode modified with a 3D nanostructure for implantable continuous glucose monitoring
Zhihua Pu, Jiaan Tu, Ruixue Han, Xingguo Zhang, Jianwei Wu, Chao Fang, Hao Wu, Xiaoli Zhang,  Haixia Yu and Dachao Li
Paper
Lab Chip, 2018, 18, 3570-3577
Flexible plastic, paper and textile lab-on-a chip platforms for electrochemical biosensing
Anastasios Economou, Christos Kokkinos and Mamas Prodromidis
Critical Review, Lab on a Chip Recent Review Articles
Lab Chip, 2018, 18, 1812-1830
---
A multi-modal sweat sensing patch for cross-verification of sweat rate, total ionic charge, and Na+ concentration
Zhen Yuan, Lei Hou, Mallika Bariya, Hnin Yin Yin Nyein, Li-Chia Tai, Wenbo Ji, Lu Li and Ali Javey
Paper
Lab Chip, 2019, 19, 3179-3189
A wearable electrofluidic actuation system
Haisong Lin, Hannaneh Hojaiji, Shuyu Lin, Christopher Yeung, Yichao Zhao, Bo Wang, Meghana Malige, Yibo Wang, Kimber King, Wenzhuo Yu, Jiawei Tan, Zhaoqing Wang, Xuanbing Cheng and  Sam Emaminejad
Communication
Lab Chip, 2019, 19, 2966-2972
---
Passive sweat collection and colorimetric analysis of biomarkers relevant to kidney disorders using a soft microfluidic system
Yi Zhang, Hexia Guo, Sung Bong Kim, Yixin Wu, Diana Ostojich, Sook Hyeon Park, Xueju Wang, Zhengyan Weng, Rui Li, Amay J. Bandodkar, Yurina Sekine, Jungil Choi, Shuai Xu, Susan Quaggin, Roozbeh Ghaffari and John A. Rogers
Paper
Lab Chip, 2019, 19, 1545-1555
Complete validation of a continuous and blood-correlated sweat biosensing device with integrated sweat stimulation
A. Hauke, P. Simmers, Y. R. Ojha, B. D. Cameron, R. Ballweg, T. Zhang, N. Twine, M. Brothers, E. Gomez and J. Heikenfeld
Paper
Lab Chip, 2018, 18, 3750-3759
---
*These articles are free to read for 4 weeks.