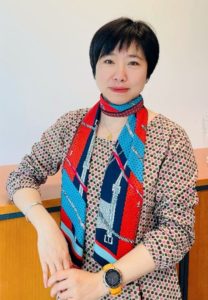 Dr. Wei Liu received her PhD in Environmental Science from the Aix-Marseille University in 2009. From 2010 to 2017, She held several research positions at European Center for Research and Education in Environmental Geoscience (CEREGE) and French Alternative Energies and Atomic Energy Commission (CEA). In 2017, she joined the University of Geneva, department F.-A Forel for environmental and aquatic sciences as senior fellow in research and teaching. Dr. Liu's research is focused on the mechanism of interaction at nano-bio interface and the biological effects of nanomaterials at molecular, cellular and organism scale.
Read Wei's Emerging Investigator Series article "Emerging investigator series: Metal nanoparticles in the freshwater: transformation, bioavailability and effects on invertebrates" and read more about her in the interview below:
Your recent Emerging Investigator Series paper focuses on Metal nanoparticles in the freshwater: transformation, bioavailability and effects on invertebrates. How has your research evolved from your first article to this most recent article?
My first article focused on the cellular bioenergetics and the geno-toxicity of metallic pollutants, an extension from my graduate work. After my PhD, I did research in the field of environmental nanoscience at CEREGE, CEA and Univ. Geneva.  I have involved in various topic including: (i) characterization of environmental fate and distribution of natural and manufactured nanomaterials; (ii) mechanistic understanding of biomolecule/nanoparticles interaction; (iii) (eco)toxicology impact of nanoscale pollutants at molecular, cellular and organism scale.
Most recently, I focus on the bioavailability and molecular ecotoxicology of nanoparticles including nanoplastics to aquatic invertebrates with the aim of proposing AOP for freshwater gastropods. So consequently, in this Emerging Investigator Series we summarise and meta-analyse the published data regarding the metallic nanoparticle's transformation in freshwater and toxicological effects in invertebrates. We come up with an overview highlighting the currently research gaps and subsequently, the recommendations for future researches.
What aspect of your work are you most excited about at the moment?
I am particularly interested in applying multidisciplinary bio-analytic approaches that combine biology, toxicology, physical-chemistry, biophysics and crystal-chemistry to better understand and explore the nature of material/living interactions.
In your opinion, what are the most important questions to be asked/answered in this field of research?
We need to observe and understand whether lower doses, given within realistic environmental concentration or sub lethal dose of nanoparticles, affect the biochemical processes of aquatic organisms, and we particularly focus on simulating whether they develop early stress or not, and if yes, how.
What do you find most challenging about your research?
Nanomaterials are extremely sensitive to the surrounding environment. The most challenging and exciting aspect is to work on long-term and low-dose realistic environmental exposure scenarios to nanomaterials. It is also highly critical to figure out the key factors affecting the nanomaterials transformation in biofluids.
In which upcoming conferences or events may our readers meet you?
I will attend the SETAC Europe 32nd Annual Meeting. I am planning to attend the International Conference on the Environmental Effects of Nanoparticles and Nanomaterials.
How do you spend your spare time?
I enjoy reading and outdoor activities like hiking and diving.
Which profession would you choose if you were not a scientist?
Diving instructor in tropical waters.
Can you share one piece of career-related advice or wisdom with other early career scientists?
Follow the topic that you find most curious about, and then let this curiosity inspire your choice of studies and research.